Features Updates
Smart Task Guidance and Progress Tracker
Overview
We've introduced a Smart Task Guidance and Progress Tracker to help users understand the next step they need to take within the RFP process and to provide best practice guidance along the way. Let's take a look at both:
Progress Tracker - Users can now see the level of progress on each RFP in the workflow. The progress tracker will appear in two places: 1) inside each RFP while drafting and 2) outside each RFP on the main dashboard (pictured below)

Task Guidance - At each stage of the request, users will be prompted with a list of actions they can take to progress towards completion. As steps get completed, new tasks will automatically appear, highlighting what the user needs to do at each stage. These "smart tasks" are built from PERSUIT's knowledge of working on thousands of RFPs and are recommendations of best practices (i.e. "we recommend inviting 4-6 firms for this request.")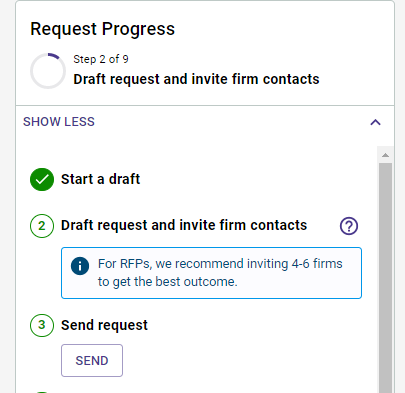 FAQ
Does the progress tracker show up for all request types?
Are there different steps for certain use cases?

No, not in this first version. In future iterations, we will provide specific guidance for the use case that was selected (e.g. if users want to conduct a rate negotiation or do an AFA on an existing matter, they'll be shown recommendations that are tailored to that use case). However in this version all the recommendations are the same for each request.

How "smart" are the recommendations?

We provide recommendations based on best practices accumulated through learning from thousands of requests. However the recommendations will not vary or change depending on user inputs in this first version. In other words, the number of firms recommended or the type of auction selected will not change depending on the matter type or other client inputs in this version, but we do plan to include this in the future.

What is dynamic within the guidance? Do steps change as progress changes?

Yes, the steps will change dynamically as you complete tasks. For instance, when a step is completed, a new step will reveal which actions to take and guidance on how to perform those actions.

For example, the progress tracker will tell users how many firms they actually invited after they've sent the request; how many firms have agreed to participate in real-time; and, as steps complete, there will be new guidance in the steps that are currently active.
Smaller Enhancements
Insights - Improved handling of errors on the frontend by displaying a more user-friendly message.
Template Tagging - Templates have been updated to include 3 new tagging fields which are mandatory. This is especially impactful for our new home experience we will be rolling out soon.