Features Updates
Pin Proposals for Easy Comparison
Overview
Users can now pin and compare shortlisted proposals. Pinning a proposal brings it to the start of the list alongside other pinned proposals. This is especially helpful when RFPs have multiple (i.e. 10+) proposals and you wish to just select and compare a few of them in a single view. Additionally, users can:
Widen the pinned columns to improve readability of those pinned proposals
Hide any proposals that are not pinned to simplify the page and bring focus to the pinned proposals only
FAQ
How do I pin a proposal?

There are two ways to pin proposals. Either you can click the 'pin icon' or you can select one or many proposals from the pick list.

How do I unpin a proposal?

To unpin, click on the pin icon again. Alternatively, you can unselect from the pick list.

How do I hide non-pinned proposals?

Click the 'Show unpinned' toggle.

Does the pin selection have longevity? e.g. I save the pinned list for later?

No. If the user pins a proposal, then refreshes their page, the pinned selection disappears and the list reverts back to the default sort (e.g. price rank).

Will other users see my pinned list?

No. Only the person who pins will see the pin.

What happens if new proposals come in when I've pinned proposals and hidden non-pinned proposals?

If a new proposal comes in, the user won't see it. However if they refresh their page, all the pinning will vanish and they will see the new proposal come into the list.

What request states will this be available in?

All states. If there are proposals, they can be pinned.

Can the firm see their proposal has been pinned?

No. Only the in-house team user who pins can see the pin.

What order do the pinned proposals display in?

The pinned proposals inherit the default order (e.g. Price rank). They will automatically sort within the other pinned proposals.

Is there a maximum number of pins?

No. A user can pin as many as they want.

If a user has 'Show revised proposals' toggled off, and they have a pinned proposal that receives a revision, what happens?

In this scenario, the revised proposal that has been pinned will disappear from the view (as the proposal has been revised).
Panel and Approved Firms Added to Contact Directory
Overview
Panel and Approved firms are now prominently displayed within the contacts directory, firms tab, and other places through the application. This was done to help in-house teams drive easier invitations of panel/approved firms in their requests.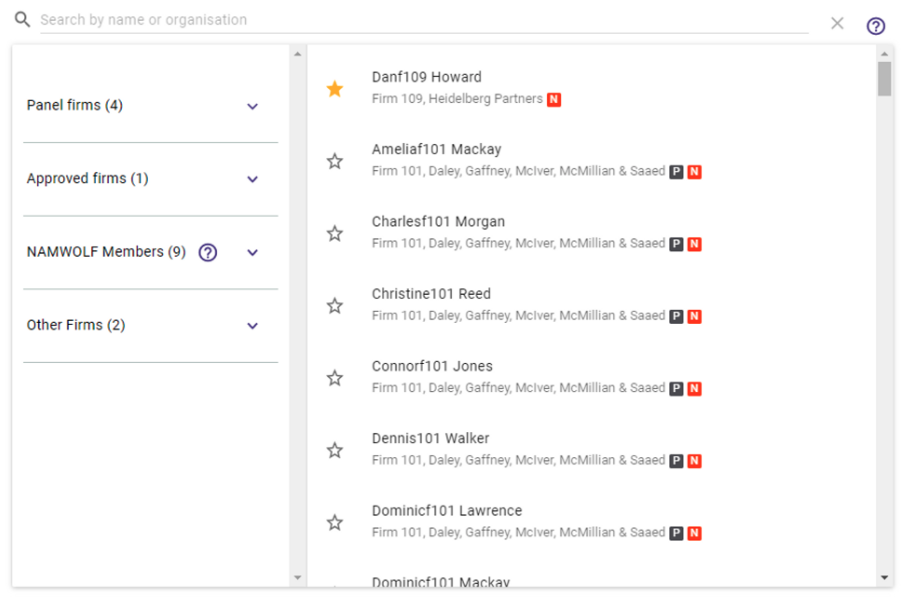 FAQ
Can I tag my own panel or approved firms within the app?

No, right now this action must be performed by PERSUIT staff. Please email your panel firm list to your CSM or to support@persuit.com so that we can upload them on the backend.

What happens if there are no panel firms uploaded? What do I see?

The section will still display, but you will see a message that prompts you to send your panel firms to your CSM or to support@persuit.com.

Are panel firm tags displayed on the proposal comparison screen?

No, only on the firms tab, contact chips, and contacts directory.
Smaller Enhancements
Insights - we updated the savings calculation with new logic to exclude outliers. Previously, any large outliers in proposals were included in the savings calculations on your Insights page. To provide a more accurate assessment of savings, we've removed any large outlier bids from the final savings calculation.

Savings calculation is the difference between 1) the average of all initial proposals and 2) either the accepted proposal; or, in the event no proposal has been selected, the average of all final proposals. Large outliers are now excluded from this calculation, both extremely high and low bids.