Reopen (and then close) RFP to individual firm
Clients can now reopen an RFP to individual firms.
Clients are able to reopen to individual firms from the "MANAGE PROPOSAL" button when viewing an individual proposal.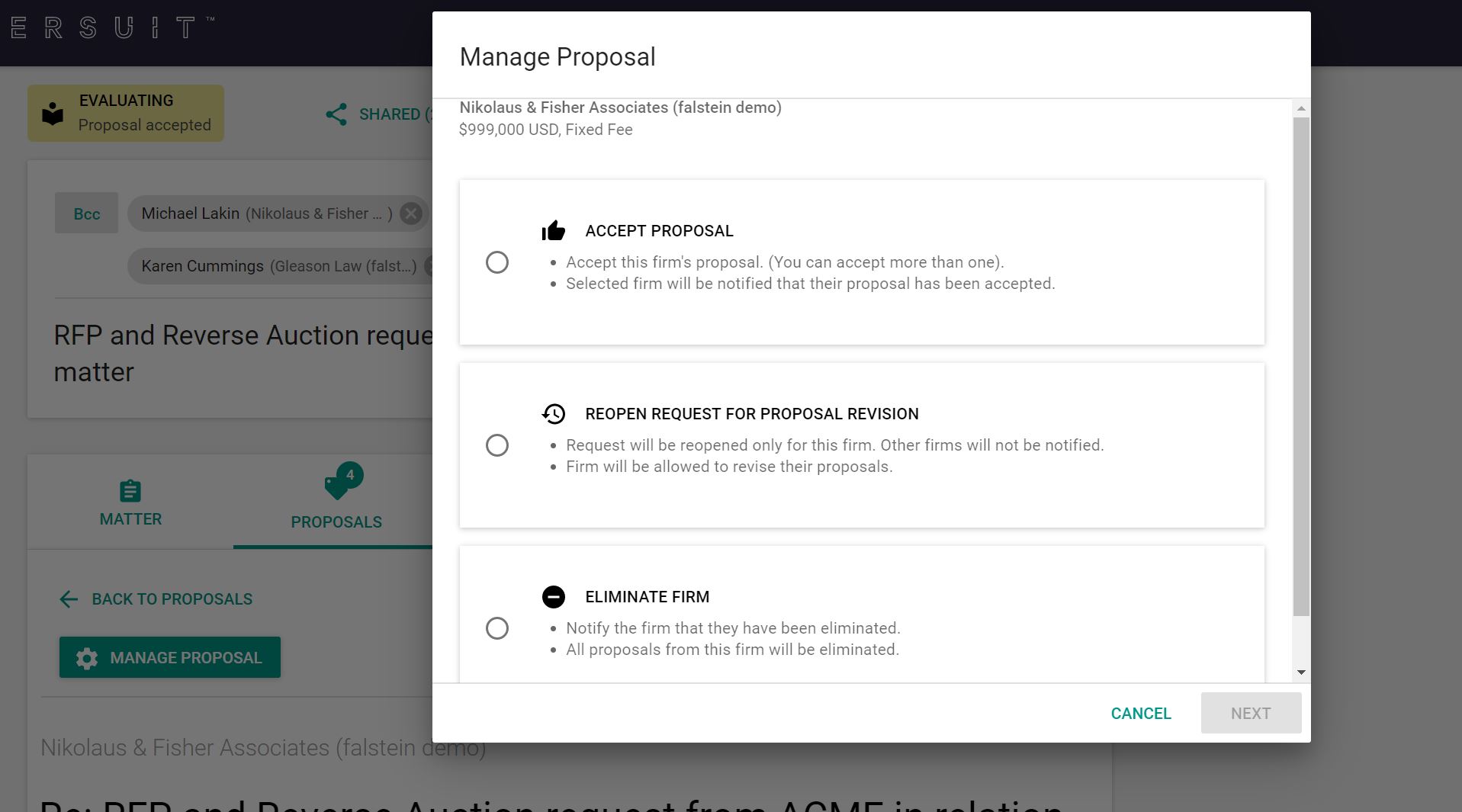 Clients can also reopen to individual firms from the new "MANAGE FIRM" button on the firms tab.
Clients can see which firms they have reopened to from the firms tab.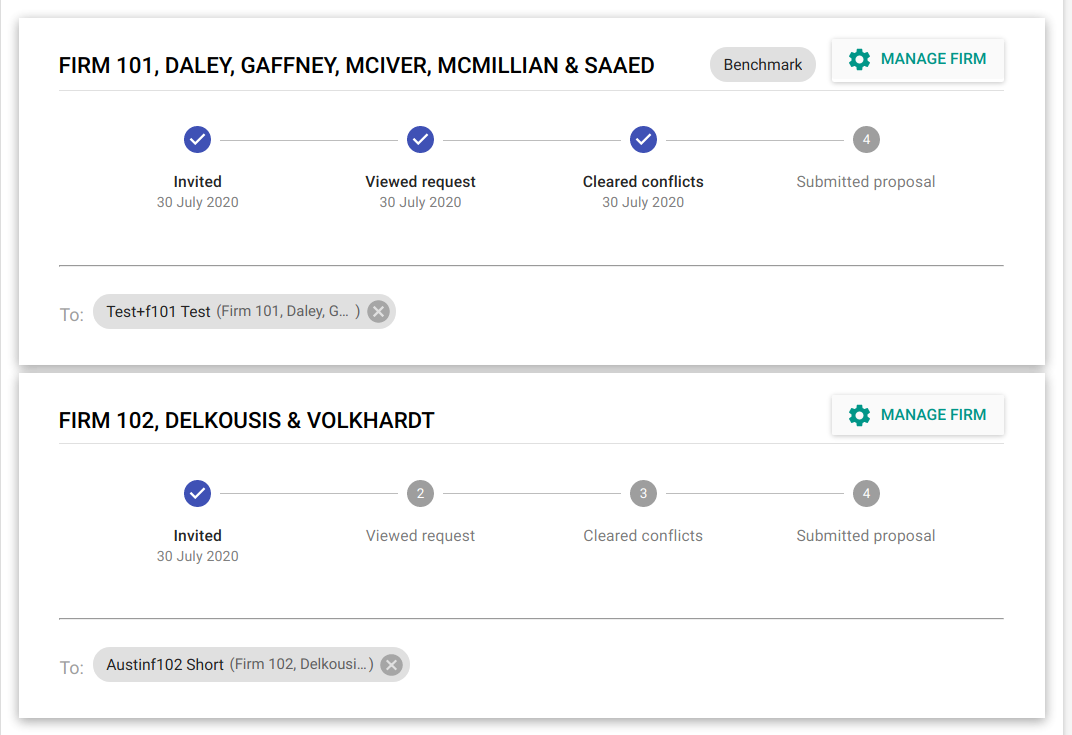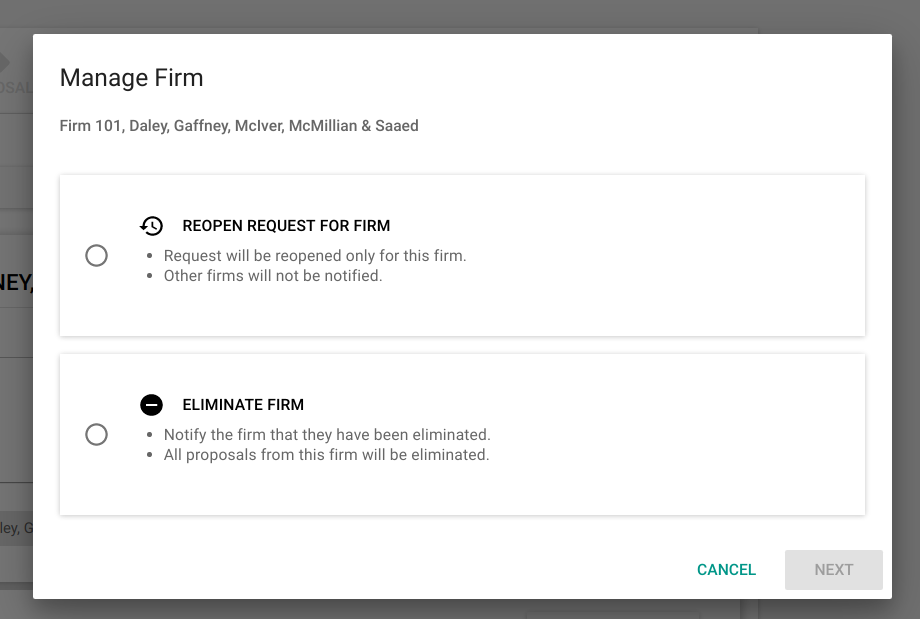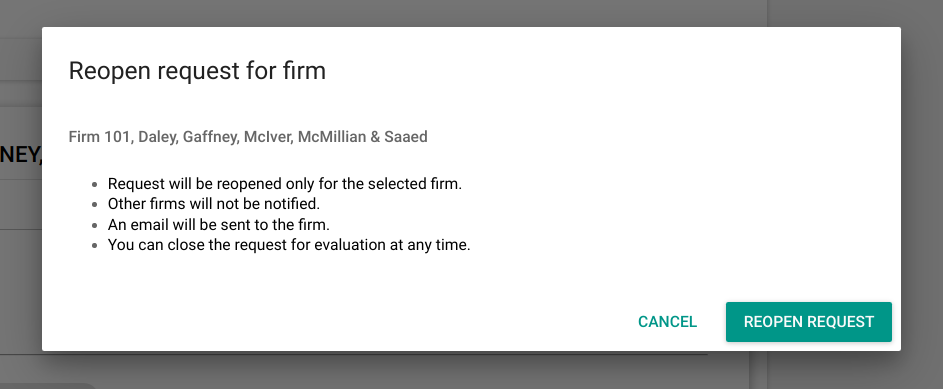 Firms can see when an RFP has been reopened to them.
When a request has been reopened to a firm, that firm can then edit their proposal or create a new one. This is helpful to enable a counter proposal workflow or in instances when firms failed to ensure that their phases appropriately added up to their revised total price at the end of an auction.
If a request is reopened for a firm, the other firms do not get any notifications about this - only the firm which has been reopened will be notified.
The "REOPEN REQUEST" button is removed.
It is no longer possible to reopen an entire RFP, rather, it must be reopened individually to the firms that users want to reopen for.
Other changes
Proposals from eliminated firms now appear by default (previously hidden by default).
They continue to be sorted at the end of the proposals list.


Compare table - Check boxes replace toggle
The old "SHOW REVISED / WITHDRAWN / ELIMINATED" toggle has been replaced with three separate check boxes.
These check boxes only appear when necessary.
Eg. If there are no withdrawn proposals the "Show withdrawn" checkbox does not appear.


The "EXPORT TO EXCEL" button respects the state of the three check boxes.
Old toggle

New check boxes

Improve compare table Excel export
Show proposal status


Previously only the ACCEPTED status was shown.
All other statuses were a mystery (withdrawn, eliminated, revised etc).
These are all now clearly spelled out in the Excel export.
Show total price on individual proposal sheets
Total price now appears on the individual proposal sheets.
It always appeared on the overview sheet but used to be absent from the individual proposal sheets.

Small changes
Update primary action button on share dialog from "SHARE" to "ADD"
This is for consistency with the rest of the language used for these dialogs.
This dialog can be seen when sharing a published RFP with a firm user