Update/Edit Request after it is sent
Clients can now make changes to requests after they have been sent via the Update Request button in the menu bar.

Selecting Update Request will take you back into draft mode and allow you to change or update most aspects of the request.
A box will appear at the top of draft mode allowing you to describe the updates you have made to the RFP. Once your update has been submitted, text in this box will appear as a clarification at the top of the RFP and all firms will be notified via email.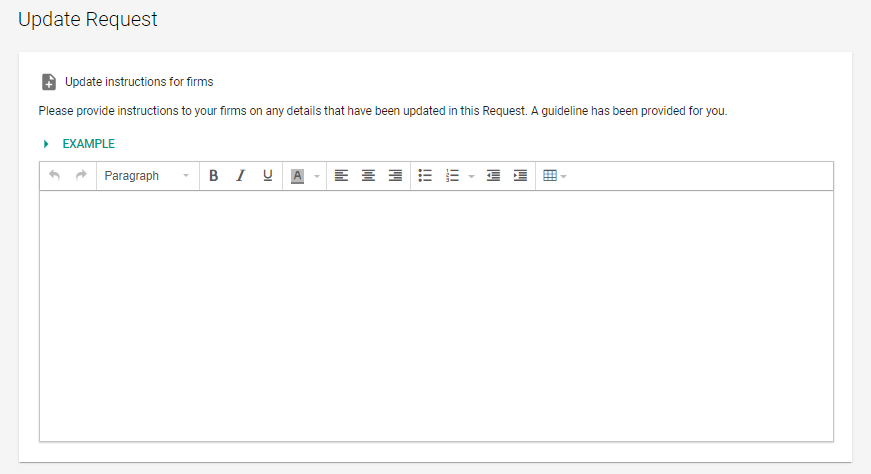 Updates will remain in draft mode until the update has been sent. Ensure you Save any draft updates before clicking out, or Discard Draft if you no longer wish to update the request.
When can't you update the Request?
The ability update an RFP is unavailable in the following circumstances:
when a proposal has been accepted

when an auction is currently in progress

once the RFP has been marked as completed
Items that cannot be edited in Update Request
you can't change the pricing model for the total price field
sub-items on existing pricing items* (new pricing items and sub-items under these can be added as normal)
conflict check cannot be enabled or disabled (counter-parties / description box can be edited)
Timeline/Dates cannot be changed in Update Request - these can be changed via the existing Change Timeline option on the menu (via the ellipses) at the top of the RFP.
Question response type/limit
*Note, firms already have the ability to add/change the sub-items on any given pricing item.
Convert an RFI to an RFP
A Request for Information (a request without a pricing section) can now be updated to a Request for Proposal (request with pricing component).
Once you have received responses to your RFI, you may like to convert that same RFI to an RFP, by requesting fee proposals from the firms. You can do this by selecting Update Request (as above) and ticking the checkbox for Request Total Price. You may then add a pricing component to your request and firms will have the option to revise their proposals to respond to the pricing component.
Proposals that have not yet responded to the pricing component of the RFP will appear as Pending in the comparison table. Those proposals that have been revised by the firm to respond to the pricing component of the request will have their prices shown as normal.