Purpose of Annual Rate Negotiations / Reviews
Firms approach clients regularly to request rate increases and the burden on clients to negotiate with dozens if not hundreds of firms can be a serious challenge. For example, at one large pharmaceutical client, the process often starts in November and lasts sometimes until June of the following year as the team handles each negotiation one by one. The process of reviewing and negotiating rates can involve personnel from legal, legal operations, and procurement to come back to the firms with a counter proposal.

Below is a a high level summary of how an annual rate negotiation could proceed:
Firm A has proposed 7% increases to the rates for all of its partners. Client counter-proposes 2% increases and provides market benchmarking information that indicates the firm's rates are already above benchmark for firms of a similar size and standing. The parties agree on a 4% annual increase for partners.
These negotiations could have an impact on millions of dollars of spend depending on how much work the client has under AFA. Usually AFAs are carved out of scope and negotiated separately on a matter-by-matter basis and the more work a client has under AFA, the less critical the rate negotiation process becomes.
Questions to Ask of Firms in a Rate Review Negotiation
In a rate review process, questions should be asked to justify any rate increases, such as:
What is your firm's average discount off standard rates, across all clients?
What is your firm's average discount off standard rates across your Top 10 clients?
What discount off your firm's standard rates is being applied to my organizations rate card?
Considering demand for legal services has been relatively flat, how do you justify a rate increase?
If these rate increases are indeed based on market factors, then what benchmarking information do you have to justify the increase?
If these rate increases are based on internal cost increases, then what information do you have to support this (e.g. how much has rent increased?)?
What volume discount percentage or multi-year discount will your firm offer?
How PERSUIT Can Help
PERSUIT facilitates your annual rate review process by:
centralizing all proposed rates in one repository as the single source of truth
reducing reliance on email for conducting negotiations (all counter proposals are captured in a streamlined workflow in PERSUIT)
providing an apples-to-apples comparison view of your firms' proposed rates
centralizing communications between all parties throughout the process
decreasing the coordination time spent by all parties
providing an easy way to collaborate with your colleagues
facilitating the final negotiation via PERSUIT's counter proposal functionality
To that last point, PERSUIT's Request for Proposal Revision (Counter Proposal) feature can be utilized when you'd like to negotiate rates further with one or multiple firms after they've submitted their rates on PERSUIT. Potential reasons you may want to negotiate the rates further are if:
you are interested in partnering with a firm but because price is a large factor in the decision-making process, you would like the firm to consider revising a specific rate to match the rate of a similarly ranked competing firm.
you want to ensure market alignment with your panel of preferred firms.
How Request for Proposal Revision Works
Step 1. & 2. Click "View Proposal" and then "Manage Proposal"

Step 3. Click "Ask Firm to Revise their Proposal", then "Confirm"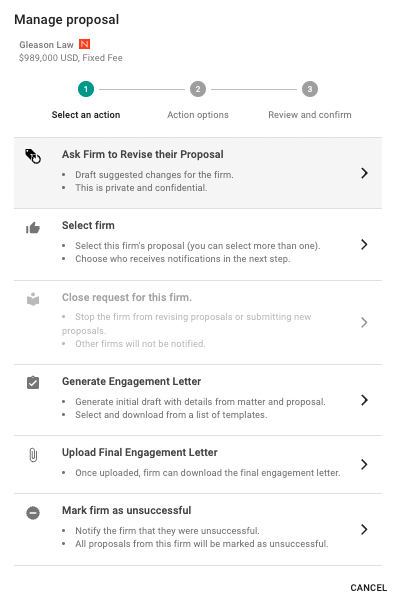 Step 4. Suggest changes, or 'Redlines', to the proposal
Any changes to pricing will display as a redline:

Step 4. Summarize your request
The proposed rate card pricing redlines will show at the top of the request for proposal revision page, and a free text field allows you to provide your firm the details of your request: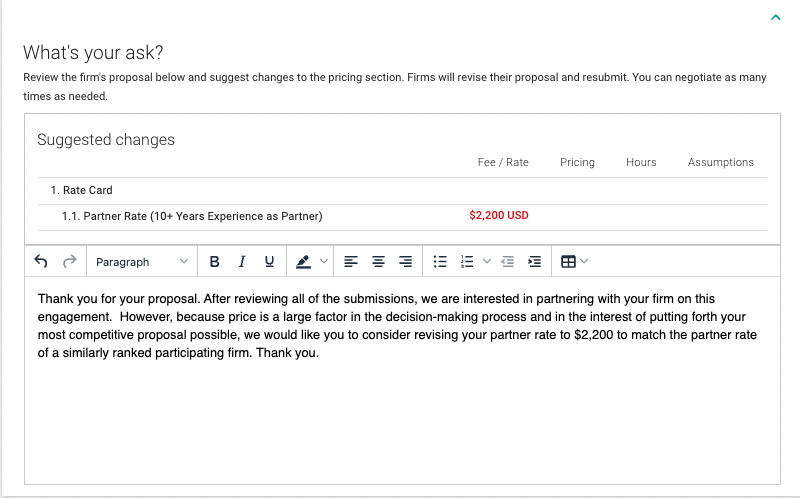 Step 5. Select "Send"

Once the request for proposal revisions are requested, your firm will receive an email notification alerting them of the request. Your firm will also have the opportunity to view your suggested changes and details at the top of their proposal. See below: