A new counter proposal workflow is here...
Clients can now redline firm proposals and send suggested changes / price reductions to firms in a structured workflow on PERSUIT.
What is the purpose of the "request proposal revision" (counter proposal) feature and in which situations would I use it?
You may have identified a need for a firm to revise its proposal in one of the following situations:
An auction has concluded but you want to negotiate further with one or multiple firms to ask that they revise their total price or some of their 'phase' prices
An RFP deadline (no auction) has passed and you'd like to negotiate with one of the firms
A firm made an assumption that you would like them to revise
A firm made an error in their proposal - or failed to adjust their phases and only changed their total price during the auction and you'd like to specifically ask them to change a particular item
How it works
Step 1. Click "View Proposal" and then "Manage Proposal"

Step 3. Click "Ask Firm to Revise their Proposal" and then "Next"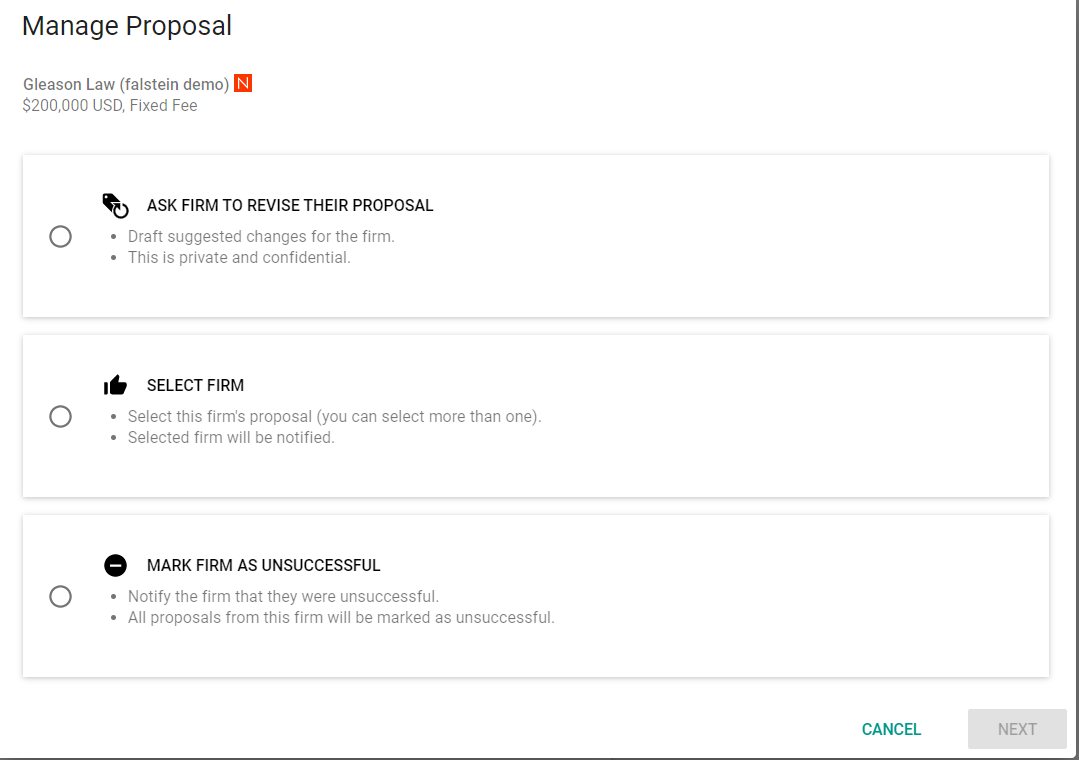 Step 4. Draft a Request for Revision / Counter Proposal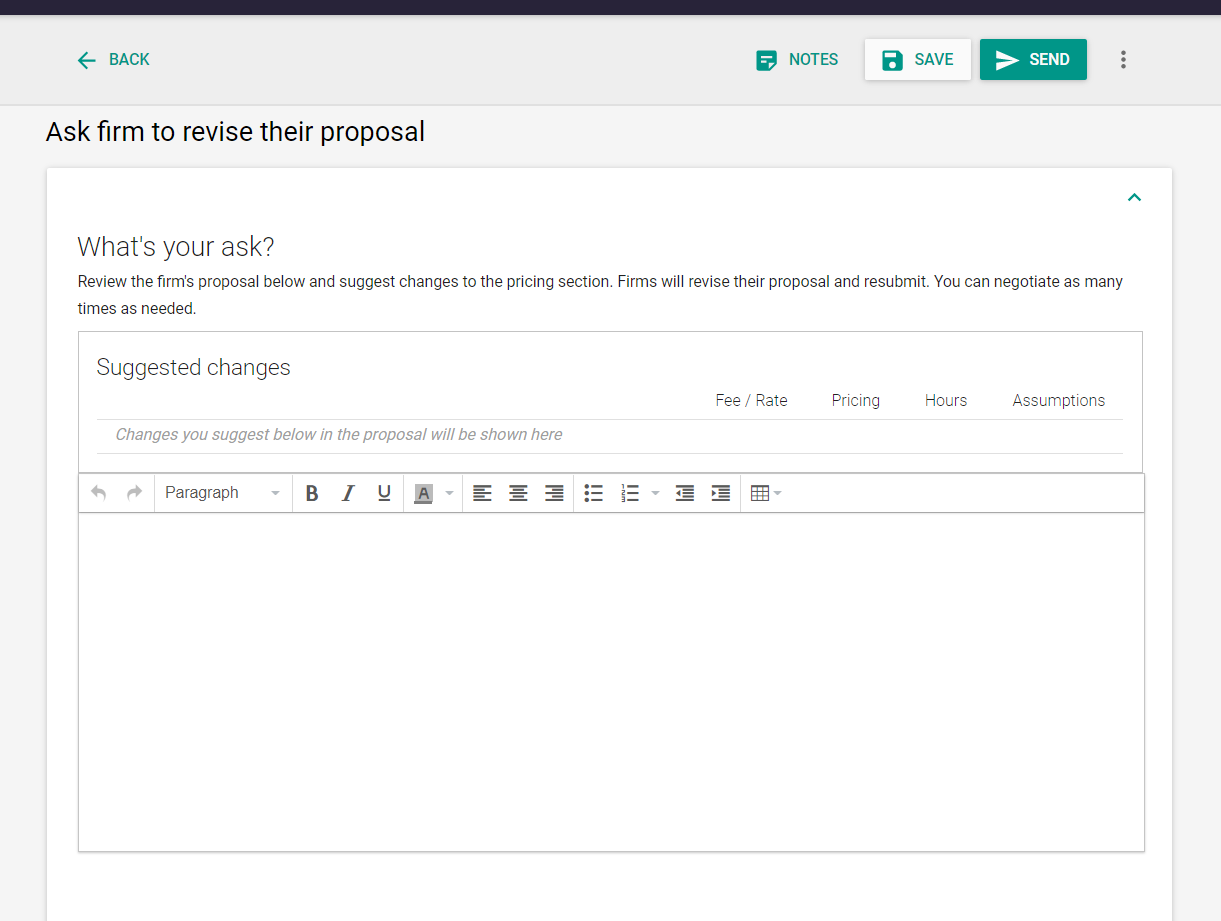 *Note - you can discard /delete the request for revision draft if you change your mind by clicking the radio button (AKA - the 'three dots'!)

Step 5. Consider making in-line changes or 'Redlines' to the proposal
When you draft a revision request, you can either 1) use only the text box to make a written request without redlining a specific aspect of the proposal or 2) use the text box and make in-line changes/redlines to the pricing, fee type, hours, or assumptions of the firm's proposal.

When you make in-line changes/redlines to the proposal, those will automatically appear at the top of the page under "Suggested changes" as an easily digestible summary for the firm. (see below)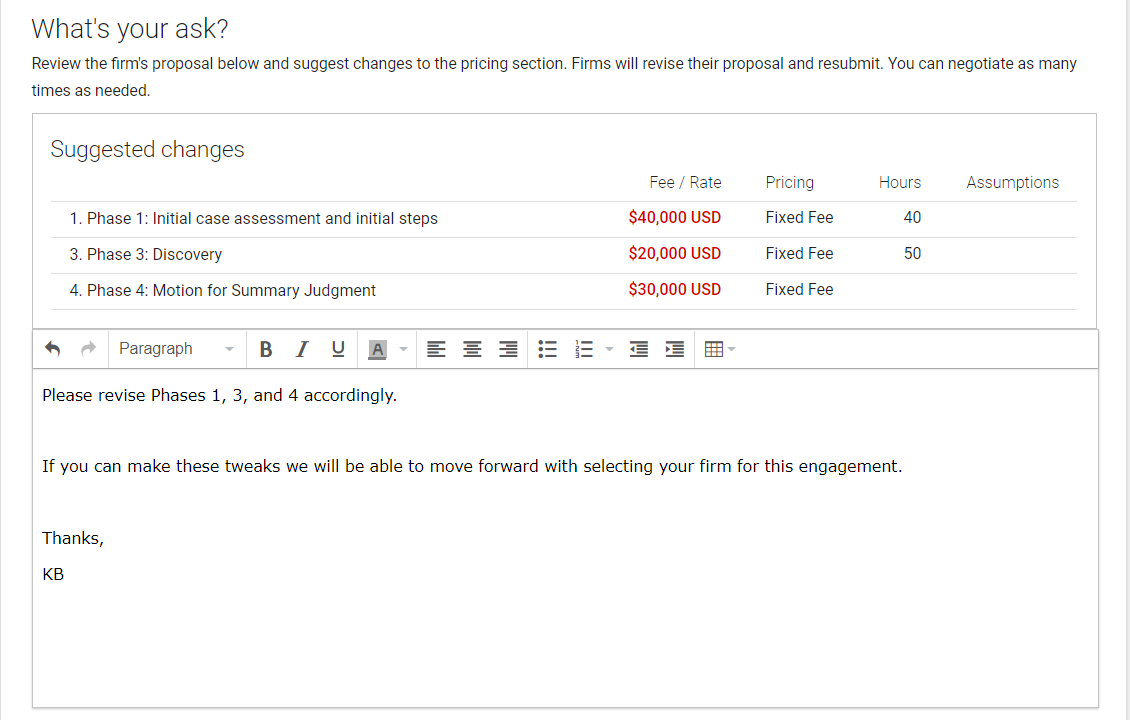 How do you make in-line redlines/suggested changes?
1) Navigate to the part of the proposal you'd like revised and click the green pencil icon

2) Type into the blank fields with your "ASK" for new prices or fee models you'd like the firm to consider:

Step 6. When you're finished making suggested changes - navigate back to the top of the page and write a summary of the suggested changes and then click "Send"

What happens after I send my request for proposal revision?
1. Firms will receive a notification email that a revision to their proposal is required based on your suggested changes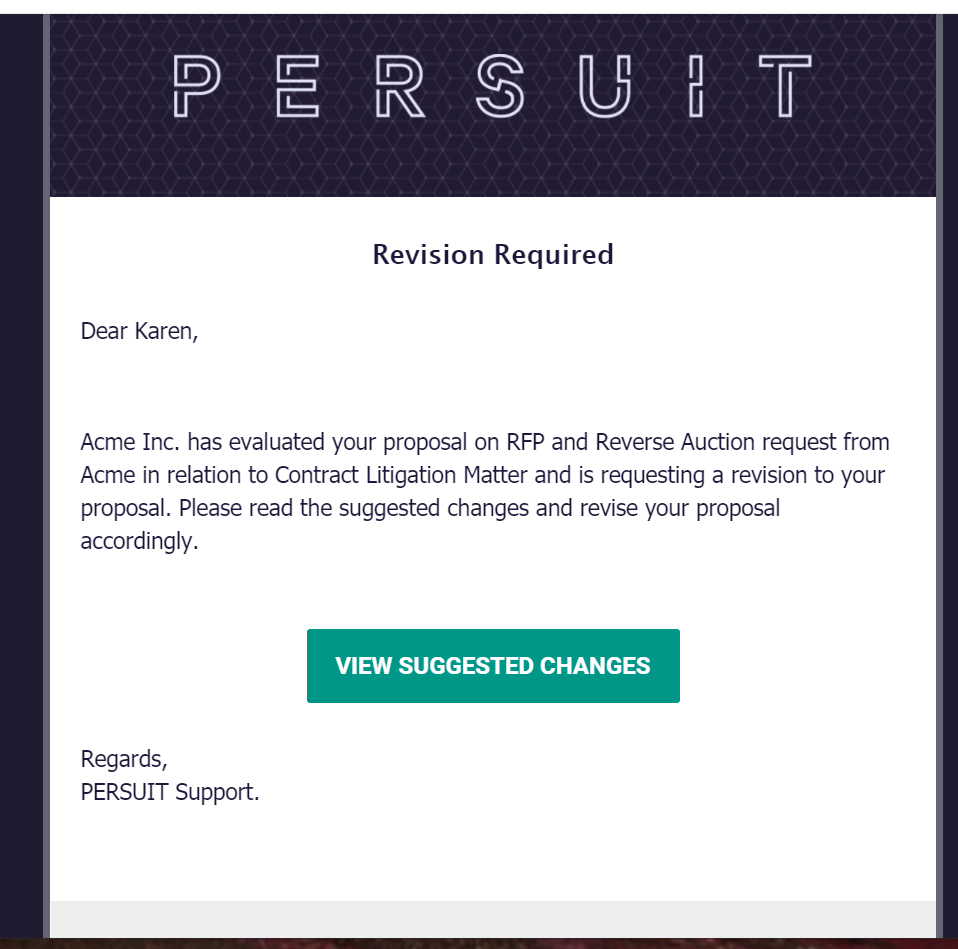 2. Upon Logging in, firms will see that their "Sent" proposal is now "Awaiting Revision"

3. Firms can expand the "Revision Comments" to see a summary of changes requested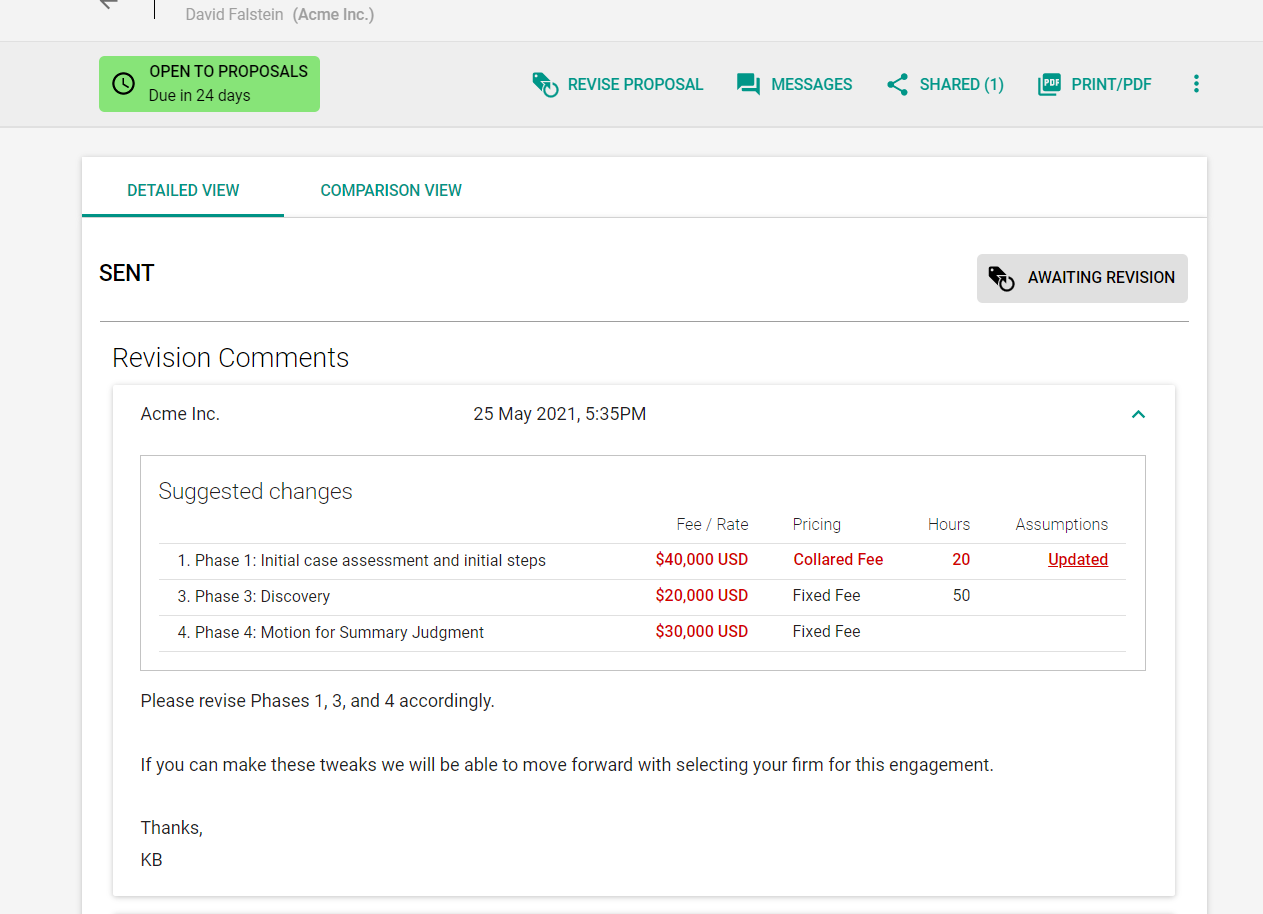 4. Firms can click "revise proposal" to edit their proposal to make changes and use the summary box to provide any narrative around their revisions. They can also continue to use the Messages function to ask clients clarification questions as needed.

What happens after firms submit changes?
Clients will see the new submitted proposal and can track the revision commentary between both parties on the face of the proposal by clicking to expand the "Revision Comments"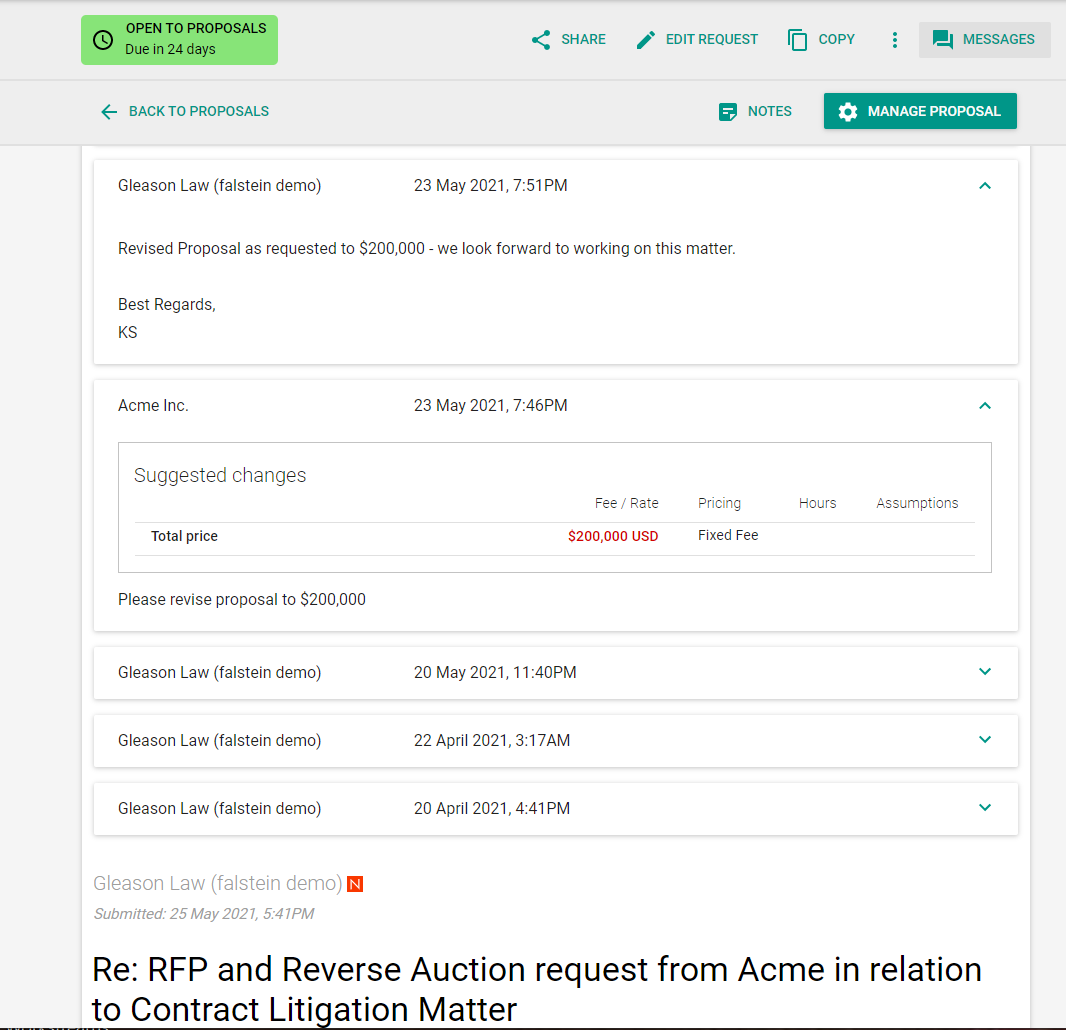 Problems this release aims to solve:
Better tracking and capturing final agreements that occur from offline negotiations that happen outside of PERSUIT
Providing a streamlined method for negotiating within PERSUIT
With more accurate final proposals captured in PERSUIT, clients will be able to "select" firms within PERSUIT more frequently - improving downstream reporting
Important first step towards future release aimed at allowing clients to download an SoW or Letter of Engagement that includes all of the agreement details