Features Updates
New Homepage Experience
Overview
We redesigned the homepage in app to provide users with a more direct and intuitive pathway to the actions they would like to take in PERSUIT. The new design surfaces multiple use cases and matter types to serve as jumping off points into request workflows.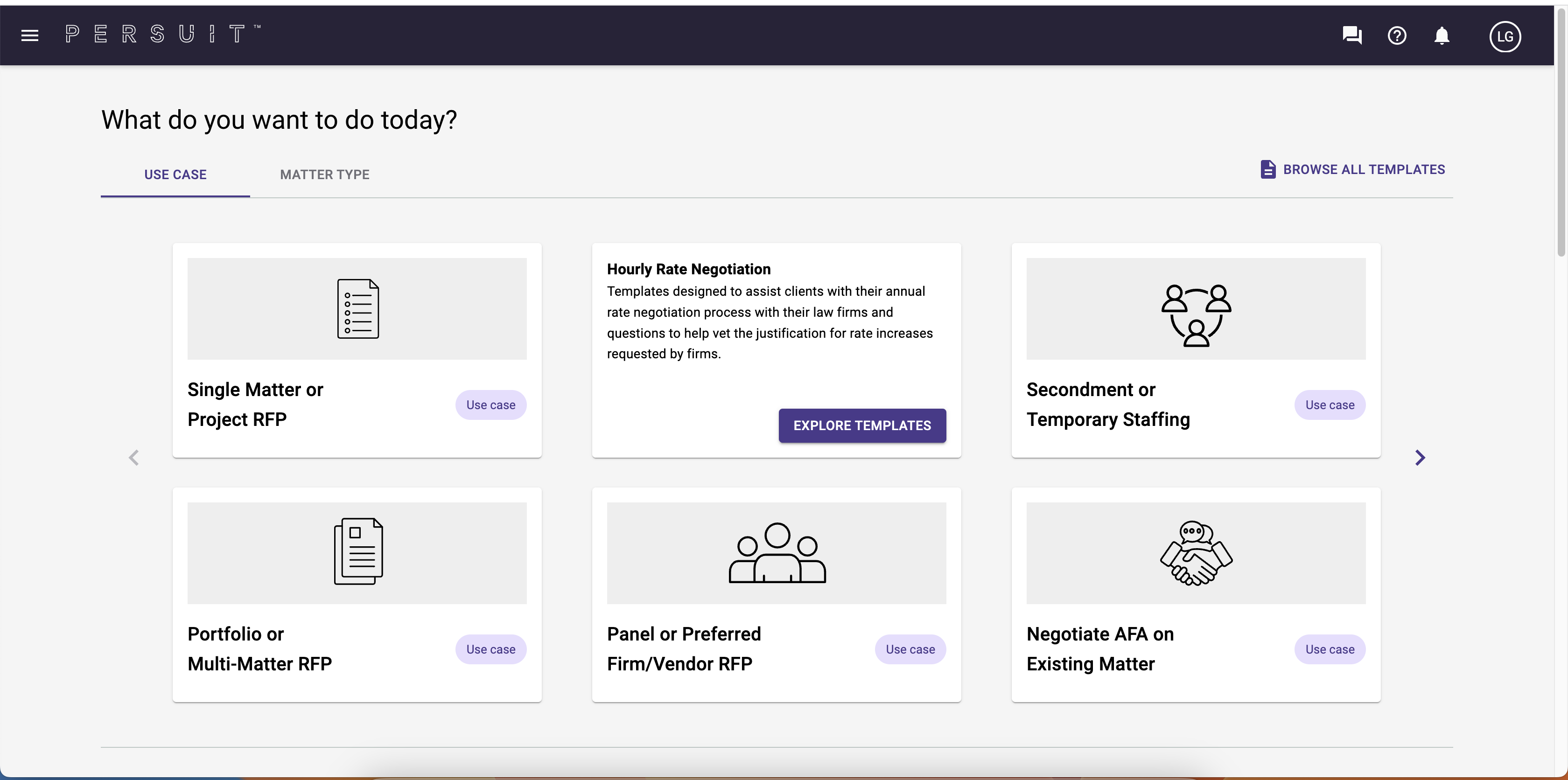 The use cases will appear on the main dashboard once you login. Each use case will take you right to purpose-built templates that you can use, or you can create your own. The use cases available are as follows:
Single Matter or Project RFP: request proposals from law firms for a specific legal matter or project
Portfolio-Matter RFP: bundle high volume work into one request
Hourly Rate Negotiation: templates that assist users with annual rate negotiations and questions to help understand the reason for increases
Panel or Preferred Firm/Vendor RFP: establish a preferred provider or panel program
Secondment or Temporary Staffing: request proposals for secondees or other short-term staffed resources from multiple vendors or firms
Negotiate AFA on Existing Matter: negotiate an AFA with a single firm for the remaining go-forward work that's left to be completed
RFI or Survey: collect information on a scope of work or more general inquiries
…or start from scratch!
The matter types available are as follows:
Litigation and Investigations
Transactions and M&A
Legal Advice Projects
Intellectual Property (Non Lit)
Regulatory Services (Non Dispute)
Finance and Bankruptcy Practise
Consulting, Tax and Accounting
IT Services & SaaS
Marketing and Advertising Services
Start from scratch
We also streamlined the Existing Requests section of the homepage beneath these use case tiles. Tabs have been added to organize requests according to their status (Active, Completed, All) and the filter and search capabilities are still present should users want to locate a request based on more specific criteria.
FAQ
I only see one line of tiles across my homepage, why is that?
When a user has more than 3 requests on their dashboard (regardless of whether they created them or not), they will see a single line of tiles (1x4 with left and right arrows). This allows the user to easily access their 'existing requests' without too much vertical scrolling. For any new user will less than 3 requests, they will see a grid of six tiles on their homepage.
Template Library
We've also improved the formatting of the PERSUIT template titles and descriptions. The template library page is now more readable and we've added tags to help users quickly filter and choose the most applicable template they need. You can sort on the template library by use case, matter type, or country.
As always, you can create your own templates. When creating your own templates, there are now three mandatory fields to fill out before the template can be published: Template Use Case, Template Matter Type, and Country. This ensures consistent tagging of all templates across PERSUIT.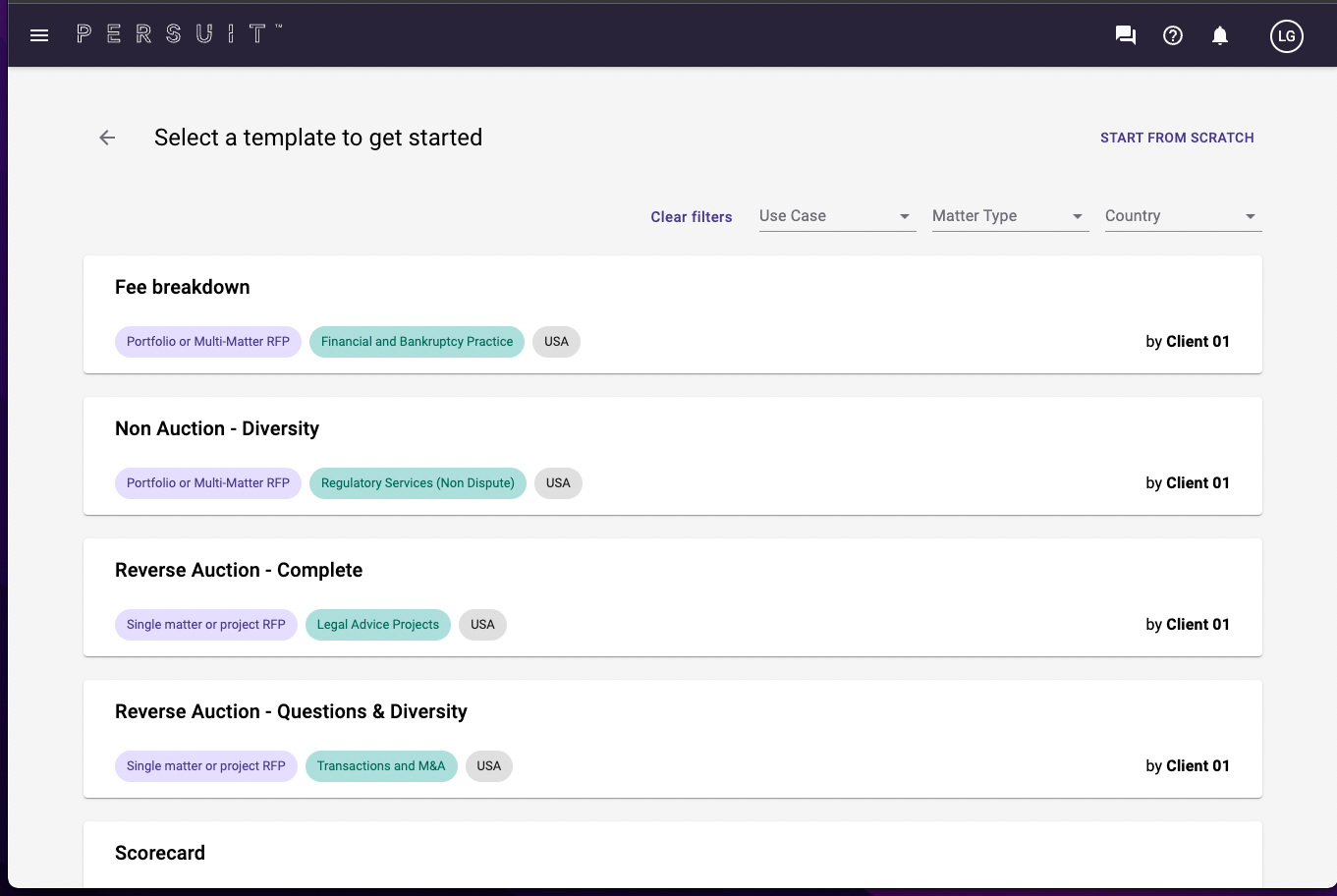 FAQ
What countries are available?
Some templates will show that they are applicable to any country (Global), while others more specifically are for: USA, UK, Australia, Germany, France, EU, Brazil, Switzerland, and Canada
We plan to add more countries over time.
Will my 'Company' templates be tagged when this goes live?
Yes. This tagging effort extends to both PERSUIT and company templates. This will not include 'unpublished' templates. However tagging is now mandatory to publish a template, so users will 'self tag' after the feature goes live.
How do unpublished or new templates get tagged?
When editing a template, there are three new mandatory tagging fields: Template Use Case, Template Matter Type, and Country. These must be filled in each time.
Will untagged requests be displayed in the templates list?
Yes. Even if a template isn't tagged (e.g. if one is missed during the initial tagging by the PERSUIT team) it will still display in this list. It will simply not have any visible 'tags' on the template row.
Can a template be tagged with an 'other' use case if the options aren't applicable?
No. All templates must fit into one of the PERSUIT use cases and matter types. That being said - there is no such limits on 'requests'. Users can get as creative as they like outside of the bounds of the PERSUIT template tags.
How have Company & PERSUIT templates been combined? And why?
Previously, your Company and PERSUIT templates were presented separately in two separate tabs. With the introduction of filters, it made sense to combine these templates into a single view so that users who are exploring templates have as many options available as possible.
Company templates are displayed first in the list. And the sort order is alphabetical order within the company templates.
PERSUIT templates are next in the list. And the sort order is alphabetical within that batch of results.
What is the difference between 'Preview' and 'Use template'?
'Preview' - users are taken to the preview for that template.
'Use template' - A request draft is created based on that template. Users can then start drafting.
What is the multi-select logic for the filters?
If a user selects multiple items within a filter (e.g. use case), it will display templates that match item 1 OR item 2.
If a user selects multiple items across multiple filters (e.g. use case and matter type), it will display templates that match item 1 AND item 2.
How have the home page request filters changed? And why?
All filters have been removed to reduce the complexity of this screen.
They have been replaced by three new filters - Active, Closed and All. The sorting and searching still exists.