Features Updates
Create Groups for Separate Pricing Items
Overview
Enabling users to create groups of pricing items will allow for better separation of such items. This is particularly useful for portfolio matters and matters that will have multiple jurisdictions or regions for panel requests. Groupings are helpful also on single matters, in the event you would like multiple options and want to use a header to separate those options.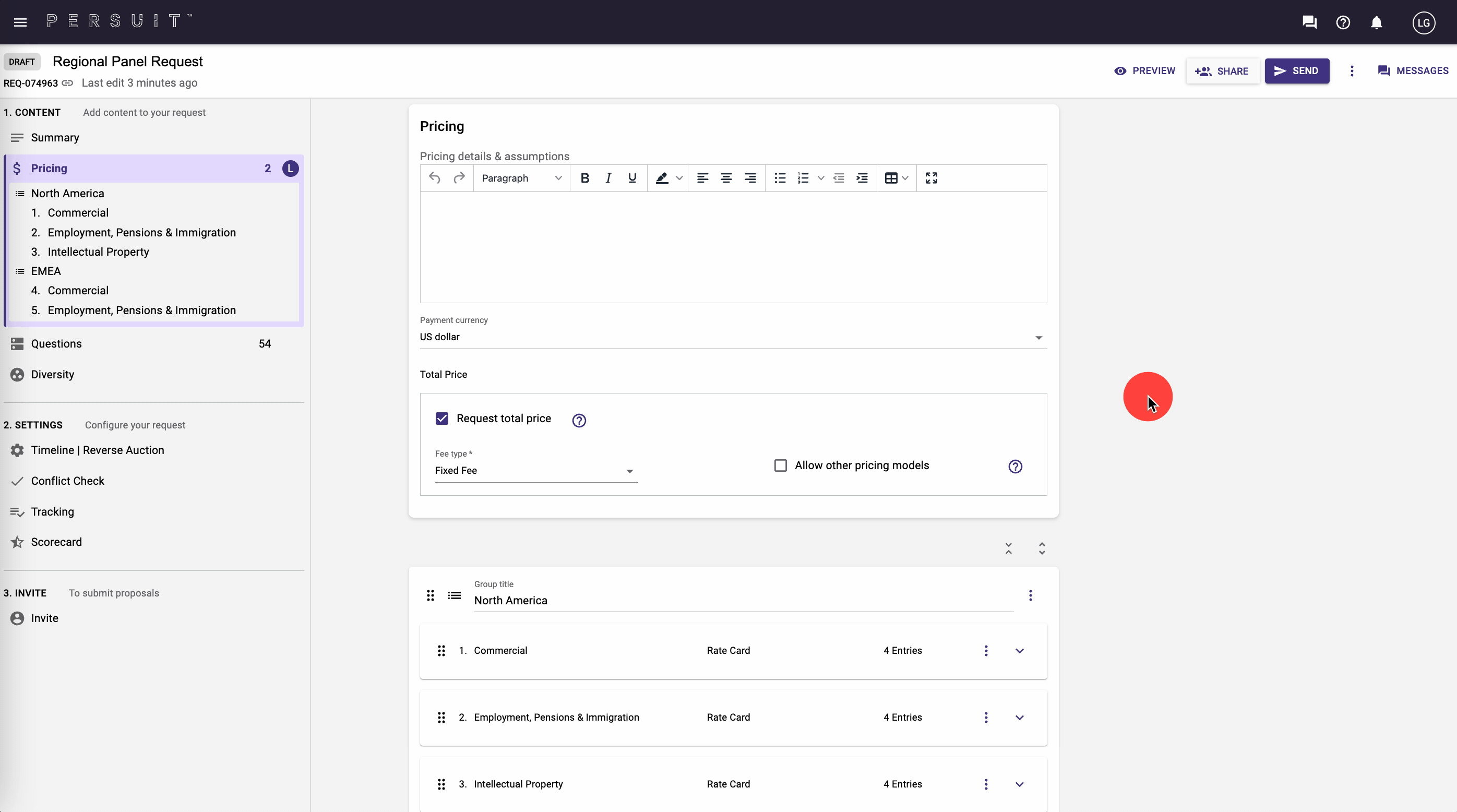 Use Cases
Groupings are not only helpful for portfolio or multi-jurisdiction RFPs. They may be helpful in single matter RFPs in the following ways:
Multiple Pricing Options - in the event you'd like to ask firms for multiple pricing options for a single matter, then you can use groups to divide those options and provide a clean header for them. For example:

Group Header: Option 1 - Fixed fee by Phase
Group Header: Option 2 - Fixed Fee by Phase with a Success Bonus
Group Header: Option 3 - Hourly Rates

Multiple Deliverable Types within a Matter - sometimes in-house teams want a fee for a number of phases which represent the scope of work for the project but ALSO want a fee for future iterations or ad hoc work that may be added on. Groupings can help with this, for example:

Group Header: Project Deliverables

Fee for Phase 1
Fee for Phase 2…

Group Header 2: Fees for Ad Hoc Updates:

Fee for quarterly update to report
Fee for quarterly presentations to the board

Creating a Space for Law Firm Options - in order to allow firms to build their own pricing items today, in-house users will sometimes write a phase and title it "law firm option". However, this phase can appear as part of the rest of the client's phases and doesn't make it visually clear that a new pricing option has begun. Here is how groupings can be leveraged in these instances:

Group Header 1 - Option 1: Fixed Fee by Phase with Client Assumptions
Group Header 2 - Option 2: Law Firm Built Pricing

Item 1 - Phase 1 (instruct firms to add sub items as required)
Item 2 - Phase 2 (instruct firms to add sub items as required)
FAQs
Can I collapse a group?

Not currently. If users express a consistent desire for this, the design can be re-worked to include this feature.

Will the numbering of items remain sequential and additive (ie. not re-start for each group)?

Yes. After numerous discussions and feedback it has been decided that the numbering of items will be continuous and sequential.

Can I delete a group?

Yes, be aware that when you are creating a draft request deleting a group will also delete the items contained in the group. The system will warn you of this when you click "delete."

When you are editing a current request you must move the items out of the group before you can delete it.

Are groups presented in the excel export?

Yes, a heading row is inserted and highlighted in grey

Should I use group headers for each phase?

No, it's not recommended.

While It's up to the user how they'd like group headers, since a group doesn't obtain a price for the total of the items in the group, it's recommended that you still use items for each phase of a matter.

What will happen with existing templates? Will they be broken until we add groups to them?

No they will not be broken, the items will work as they do today, however there will be an option for clients to "add group" at the bottom of the pricing section for all requests including those that started from a pre-existing template. Clients may choose to add items from old templates into new groups and save those templates accordingly.

What does it look like when proposals come in?
"Negotiate" Button
Overview
We have added a 'Negotiate' button to the comparison/proposal detail views to encourage clients to use the Request For Proposal Revision (RFPR) feature.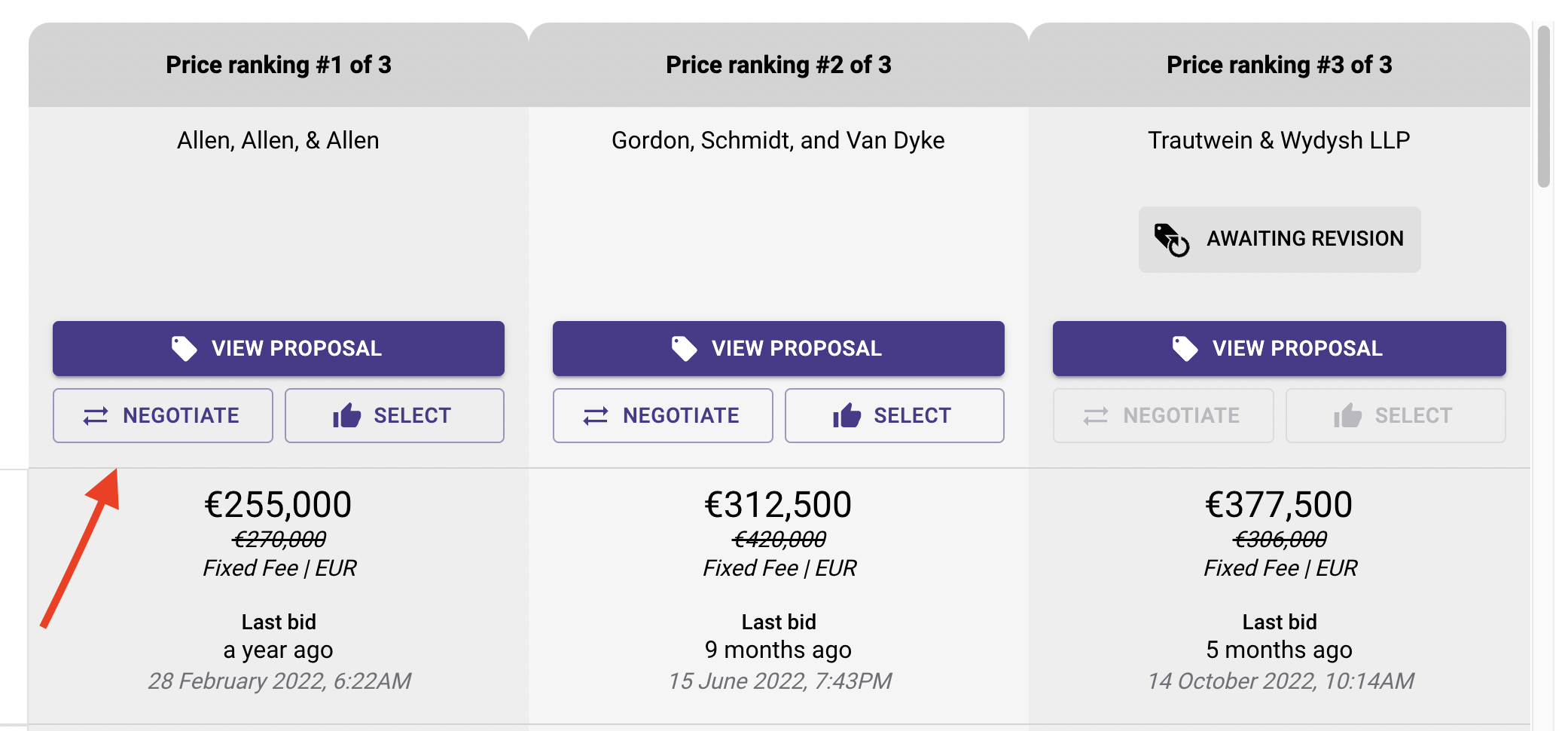 FAQs
Will firms know they're being 'Negotiated' with?

The firm will experience exactly the same Request for Proposal Revision flow. They will not see the word 'Negotiate' anywhere in their experience.

Is this still available from the 'Manage proposal' menu?

Yes. We have left the original link in the 'Manage proposal' menu. However the wording has been adjusted to reference 'negotiate'.

Has the RFPR process changed?

No (except for a bit of copy). The client journey is exactly the same. Only some of the wording throughout the journey to use the word 'Negotiate'.

In what states is the 'Negotiate' button available?

The 'Negotiate' button displays as active or inactive depending on the status. Given RFP status is 'open' or 'evaluating' and proposal is submitted/under revision, the negotiate button is active.
When the proposal is in 'Withdrawn', 'revised', 'selected', 'unsuccessful', 'proposal is already negotiating' or 'RFP is completed', the negotiate button is 'inactive'.
Auction Duration Selection
Overview
It can be hard to know how long to set an auction for, so we've made it easier by providing some suggested durations. Instead of setting an end timestamp, simply select one of the preset durations and you're ready to go.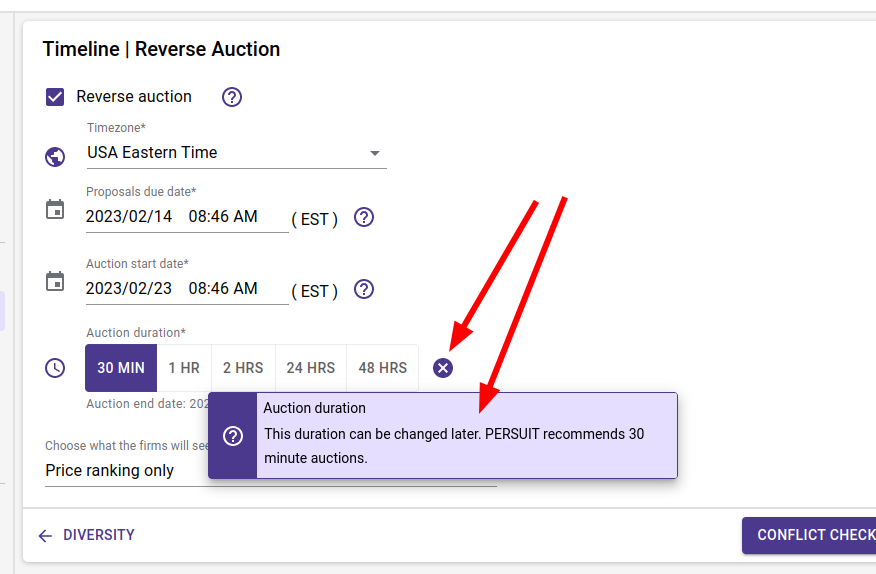 Change Proposal Due Date
Overview
Users now have more flexibility in conducting their RFPs. If the due date for proposals has been reached and the user is not satisfied with the proposals, they can change the due date and try again.
Note: this is only for non-auction RFPs, but may be expanded to auction RFPs in the future.
Smaller Enhancements
Firm Recommender updates:

The draft email button now provides a default email body template
The "No ranked firms" message now shows up when the quadrant is empty post checkbox selections as well.

When clicking / opening a request from the client dashboard, the user is now taken directly to the proposal comparison table if there are proposals received.
Added a new "Network Error" page that will now be shown instead of "Unauthorized" when the cause of the error is network issues. This change aims to address an issue faced by some users where the app re-directs to the unauthorized page randomly when drafting requests and templates.
Minor update to filters and NAMWOLF button in Contacts directory