Enhancements
Use Case Labels on Each Request
Overview
Requests now have a 'use case' label to better identify which type of request users are clicking into. These labels are either selected directly by the user when starting a request from scratch (see GIF below) or automatically if using a pre-built template. Labels can always be adjusted by the user as needed.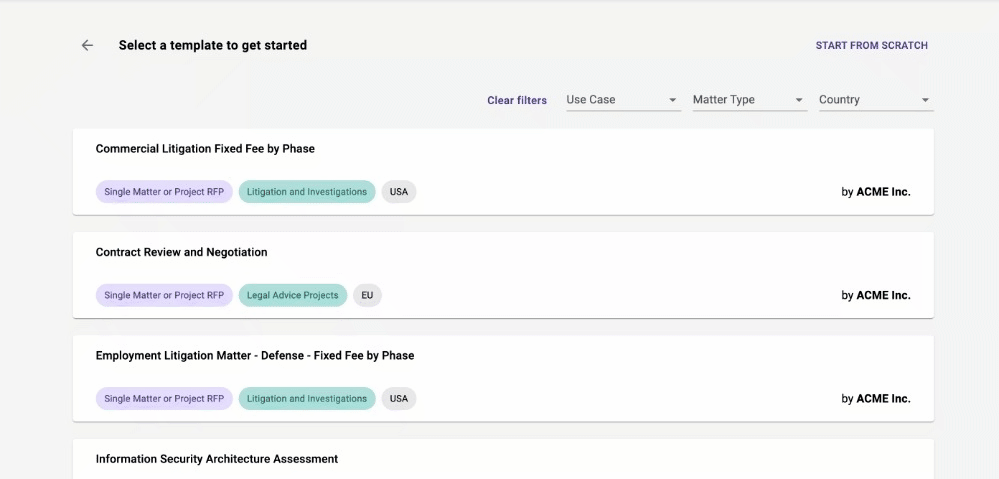 This use case label will be used in the future to enable specific business rules and workflows for Rate Review (and other use cases), resulting in a more intuitive experience for customers.
FAQ
How does this affect existing requests?
Where the use case is known, this will automatically be applied, but it is important to note that not ALL requests will inherit a label to begin with. Users will need to apply labels to those requests accordingly.
Can the label change?
The use case label can be changed any time during drafting. You can change this at the top left of the drafting screen. However, it is locked in once the request is published.
What differences can I expect when I select my use case?
For this release there are no new functionalities, but when our new Rate Review module is released, there will be a number of bespoke business rules affecting the for that use case.
Can firms see the use case?
Yes. The request will display the use case label on their end, both on the firm home page as a label on the request and on the request review page as well.
Small Changes
Overview
Currency fields within the application now support numbers up to 15 digits
Removed "Ranking Based On" text from RFP detail views
The client dashboard has new design updates to support upcoming rate review changes
Bug Fixes
Overview
Insights:

Improved how Insights loads on page when connecting to Qlik
Fixed issue with incorrect last updated timestamp