Features Updates
Program Insights V2
Overview
Introducing Program Insights V2!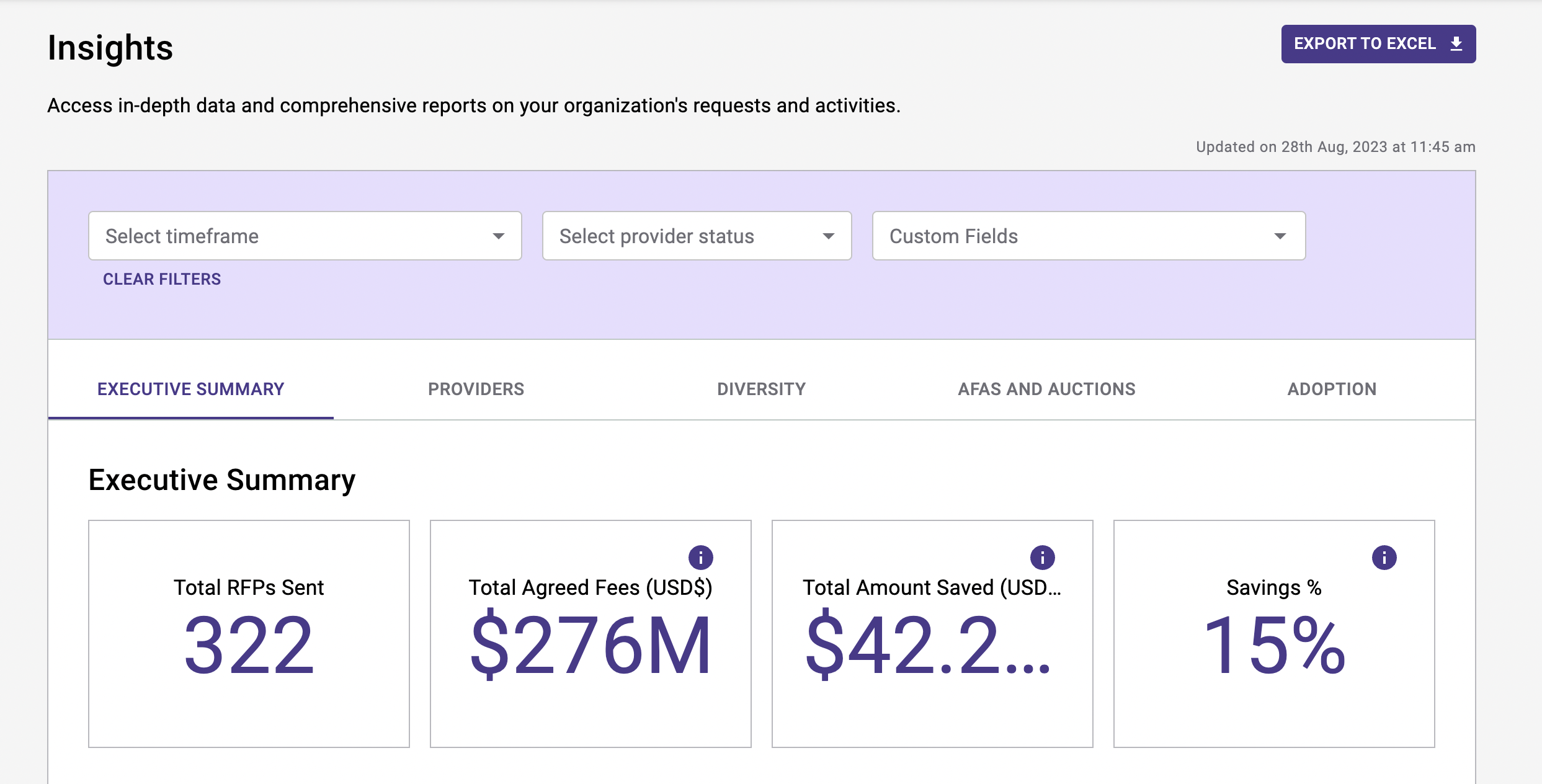 We know that for Insights users in PERSUIT, having all key program data at your disposal is paramount - so is making that data easily accessible. That's why we've updated Program Insights with a new design to make it more intuitive, while adding in new data points (i.e. diversity stats) that weren't previously available. All in a mission to help you find, analyze, and action the data you need, faster. Here's what's new:
Format - Program Insights has now moved to a tabbed layout, enabling users to uncover more information than before. The format is fully accessible, and includes all previous V1 charts/KPIs, as well as new ones. The tabs you can choose from are:
Executive Summary

- Where you'll find an overview of the core cost savings stats, monthly trends of RFPs, and the specific details of those RFPs.

Providers

- This is where you'll see stats related to the law firms or legal service providers you engage. Who is being invited to the most RFPs? Who is participating the most?

Diversity -

We've recently added diversity data to Program Insights, showing how often you're awarding firms with diverse timekeepers (among other stats) and how those law firms are doing in responding to diversity questions.

AFAs and Auctions

- How often are you using AFAs? How often are you leveraging auctions, and what are the savings resulting from those auctions?

Adoption

- Showing how many of your team members are creating RFPs, how many RFPs they're creating, and who is the most efficient user.
New Diversity Data - Clients can now see data related to use of the diversity module. This is on its own tab so that users who cannot use the diversity module do not need to see this data if they don't want to.
Custom filtering: The SALI filters in Insights v1 have been replaced with a custom tracking field filter. This will let users filter their data in ways that are most relevant to them.
Selected filter: We heard that RFPs that do not have a 'selected provider' are not considered complete, and therefore savings and fees associated with those RFPs are considered pending, not realized. To make this easier to discern, a new filter has been added that lets users view only RFPs with a 'selected provider', with 'no selected provider', or both.
New KPIs: Users can easily grasp more key metrics to answer questions including "Which provider have I invited most often?", "Which of my users has saved the most money?" and "How much do I usually save during an auction?"
New date selector: The date selector now includes a list of key timeframes to choose from, rather than just months. Further updates to date selection will be available in the next release, so please stay tuned.
Outliers no longer removed from savings calculations: When it comes to outliers (extremely high or low bids), users would prefer to see their savings include those outliers. As such, instead of identifying and removing outliers for the purpose of savings calculations, they will now be included.
FAQ
How do I get access to Program Insights?

Program Insights will be administered to users on the Program Insights and Manager roles. This role will also receive access to Real-time Business Reviews and Program Benchmarking.
If you feel you should have access to Program Insights, but currently don't, please contact your company's program manager or your PERSUIT customer success manager.
New Features
Comparison Value for Auctions
Overview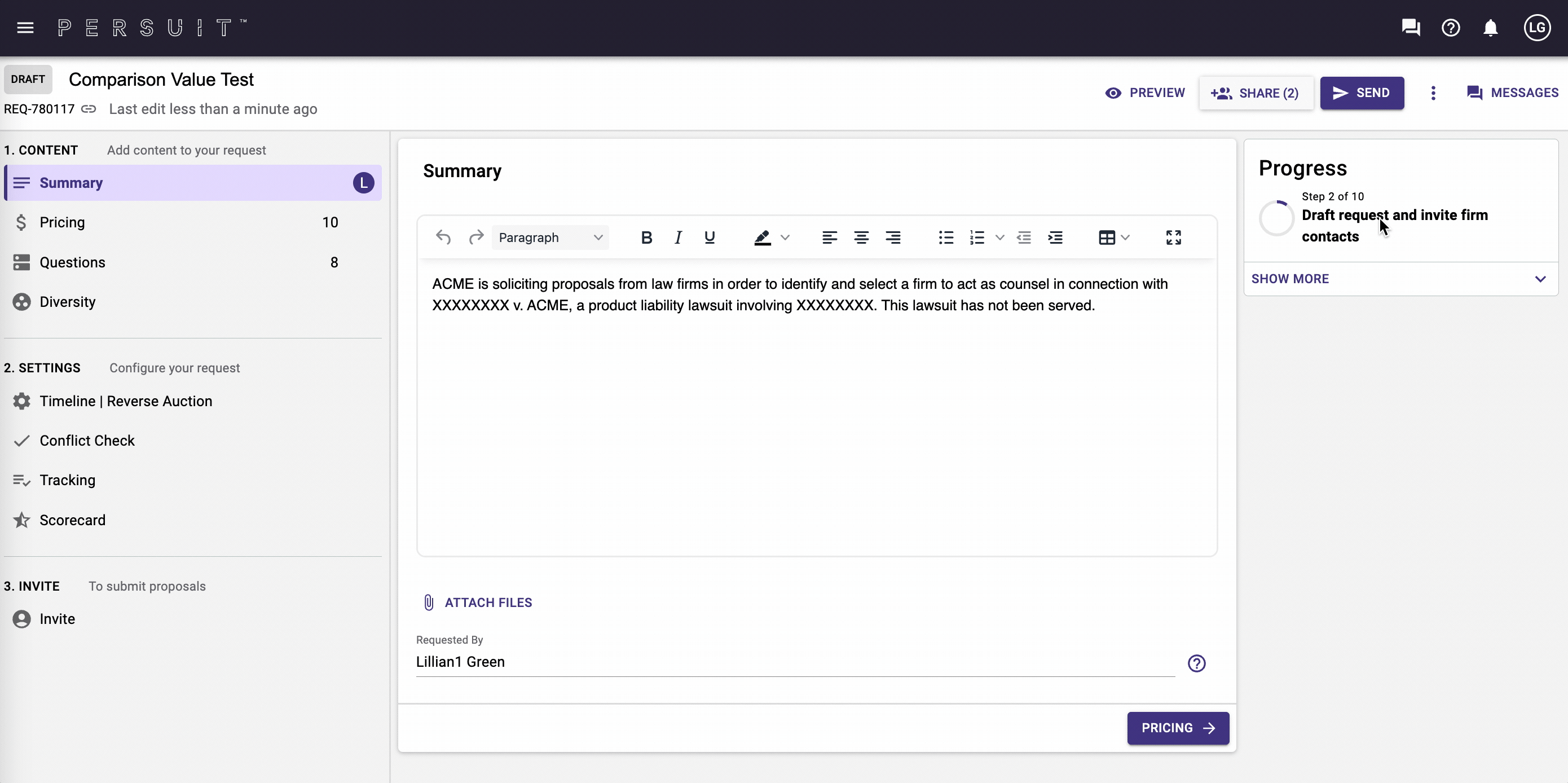 Previously, client users were required to request a 'total price' for a proposal in order to run an auction. But often, both clients and firms want to focus on changes to specific pricing items - rather than the total price of the proposal - and be able to run an auction off of the sum of those pricing item changes.
That's where Comparison Value comes in. This new feature will automatically calculate a "new" total price for a law firm's bid based on the sum of their revised pricing items. This provides an accurate auction price for both sides, allowing firms and clients to focus on the individual pricing items that make up the new total bid price.
Now, all clients need to do is simply toggle off "Request Total Price" when drafting their request (see GIF above). This will then turn Comparison Value on. Once on, rather than firms trying to back their way into a total price number for their proposal, Comparison Value will do the work for them.
Here is an example from the firm side of how comparison value updates in real-time as pricing items are revised: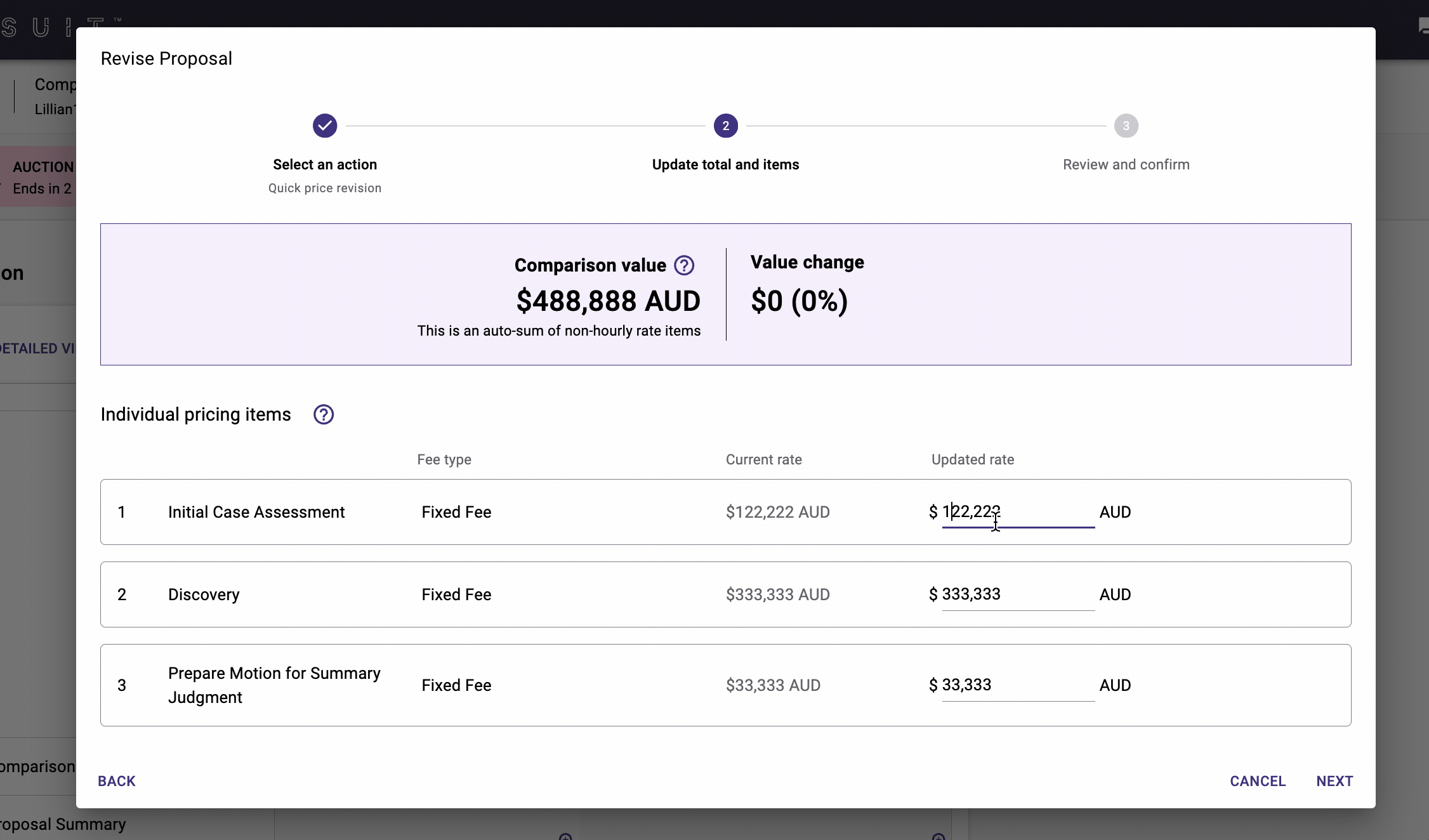 Please note that Comparison Value will exclude percentages but include all other pricing items like disbursements and expenses as part of the auto-sum calculation. Right now, there is no way to select which items are included as part of the Comparison Value but this may be included in future enhancements.
FAQ
Will the total price be displayed with the comparison value?

No, there will only be one or the other presented dependent upon the selection when the request is created.

Does the comparison value apply to non-auction requests?

Yes, if the total price is toggled off for a non-auction workflow then the comparison value will be presented.

How does this affect the auction analytics tab?

The analytics will now have savings to display when a total price is not selected. We now clearly indicate that the 'estimated savings' is based on the comparison value.
Furthermore, the auction analytics graph will now have the option to view changes for the comparison value across the duration of the matter.

How does this affect the quick update on the firm side?

Firms can still update pricing items as required. The comparison value is calculated by the platform so the user cannot edit that value. The modal window will display the changes in the comparison value as the pricing items are edited.

Can I run an RFP or auction without any total price and without any comparison value (nothing displayed at the top)?

Yes, if there are no items, OR only item types that are not included in the comparison value (rate, rate cards, percentages) you can run the request without anything displayed in the total price field. You can also run an auction without anything displayed at the top of the proposal (no total and no comparison value).

How will this affect savings and agreed fees?

Savings and agreed fees will be based on comparison value which will be treated the same as the total price for purposes of default savings calculations. A note will be displayed in the analytics within the savings section to identify the comparison value was used. Clients can override savings based on the comparison value as well just as they can with traditional savings.
Discount and Contingency Percentages (%)
Overview
One of the most requested features of the last year, discount percentages are finally here! This update allows client users to create discount fields where firms can then enter percentages.
We added two new pricing items for these percentages that clients can add:
Contingency fee %
Discount %
Firm can now respond with percentages to these new pricing items. Even better, clients and firms can negotiate these percentages during an auction.
FAQ
How do I add these items?


You add these pricing items directly in the pricing section when drafting a request.

Can firms update the item title?

No. Firms can't update the item title, they can only add their % value for contingency and discount.
For discount %, a firm can add sub items and choose the sub item title.

Are the new pricing items available in the 'reverse auction' context?

Yes! The graph now includes % pricing items which can be updated during an auction.
Small Changes and Bug Fixes
Small Changes
The RFP template preview page now additionally shows the template title so users can identify the template that they are viewing.
Bug Fixes
Fixed issue where newly added custom tracking fields were not saving values correctly at times.
Fixed issue in the 'date time' picker where the time selection scrollbars overlap text when the page is zoomed out.
Fixed proposal preview shown in proposal feedback dialog to show pricing items and groups correctly.