Overview
Program Benchmarking allows users to understand how their organization stacks up against others on PERSUIT. This addition to our Insights functionality will answer a key question for PERSUIT users — what does good look like in outside counsel management?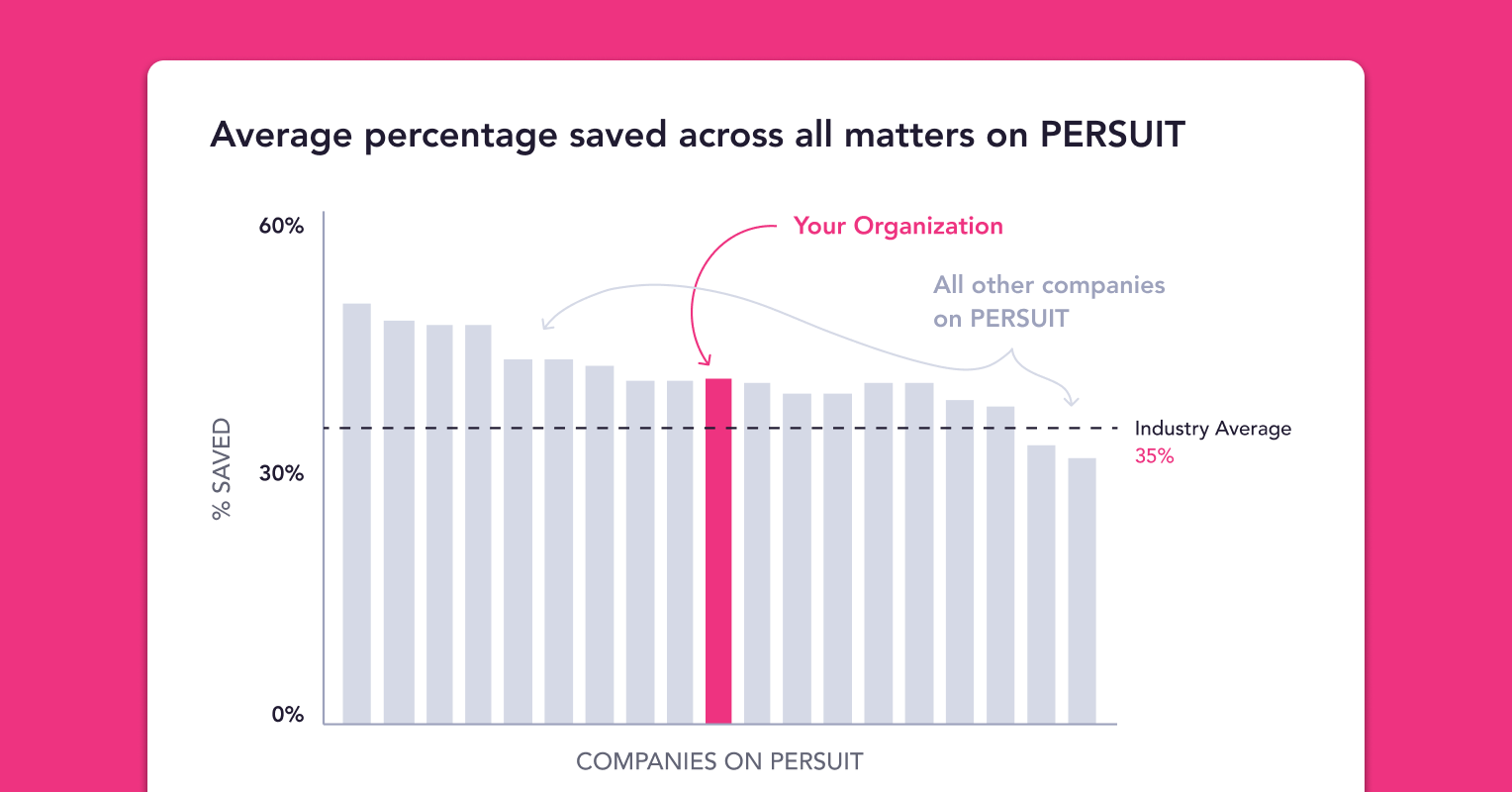 There are five main areas of Program Benchmarking within the app: Program Overview, Coverage, Diversity, Efficiency, and Workflow Completion. Each page will illustrate how your company compares to all PERSUIT programs as well as those in specific industries that you select. Once an industry or industries are selected from the drop-down at the top of the page, the data will update on each of these respect pages. Here are the charts you will find on each of the five areas:
Program Overview
Key metrics around savings and AFAs
Percentage of Competitive RFPs
Average percentage of RFPs requesting Alternative Fee Arrangements (AFAs)
Average percentage of RFPs using reverse auctions
Average percentage saved (all time)
Average percentage price reduction during auction
Coverage
How your RFPs are distributed across location, services, and area of law
Number of regions
Number of countries
Number of SALI services
Number of SALI areas of law
Number of users creating RFPs
Diversity
How often the Diversity Module is utilized and work is awarded to diverse firms
Percentage of RFPs using Diversity Module
Percentage of proposals with a diverse lead or second chair
Percentage of hours committed to diverse timekeepers
Percentage of business origination credit awarded to diverse lawyers
Efficiency
How quickly your team completes the RFP process
Average number of days for the entire RFP Workflow
Average number of days from RFP creation date to send date
Average number of days from RFP send date to proposal due date
Average number of days from proposal due date to proposal selected
Workflow Completion
The percentage of RFPs with work awarded, feedback provided, and RFPs marked complete
Percentage of RFPs with at least one selected proposal
Percentage of proposals that received feedback
Percentage of RFPs marked complete
FAQ
Which industries can I select from to use as a benchmark?
An industry will be counted so long as we have at least four customers from that industry. As always, all data is anonymized. The below list is all industries we have today and will be added to as we bring on more customers from other industries:

Agriculture
Construction
Finance and Insurance Services
Healthcare
Information Services
Manufacturing
Mining and Natural Resources Extraction
Pharmaceuticals Industry
Professional Services
Real Estate, Rental, and Leasing
Retail Trade
Technology
Utilities
Wholesale Trade
How do I interpret the charts on each page?
Each bar is a client on PERSUIT
The pink bar is the logged-in user's organization
Teal bars represent members of the selected industry or industries. 4 or more clients on PERSUIT must belong to the selected industry or set of industries in order for the teal highlighting to appear. If there aren't enough clients within an industry, an error will appear stating that "We currently do not have enough data for the selected industry. Please select another industry for comparison."
The "Industry Avg" line shows the average for all PERSUIT clients in the selected industry or industries, excluding the logged-in user's org (if it belongs to one of the selected industries).
The "Overall Avg" shows the average for all PERSUIT clients.
The purpose of the bar chart is to give the client a sense of how they stack up compared to others on PERSUIT, based on a specific metric.
How do I interpret the metrics to the right of each chart?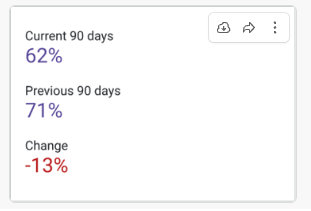 "Current 90 days" is the value of the metric on the left for dates ranging from 90 days ago to today
"Previous 90 days" is the value of the metric on the left for dates ranging from 180 days ago to 91 days ago
"Change" is the percentage change between "Previous 90 days" and "Current 90 days"
The purpose of these KPIs is to give the client a sense of whether their performance is improving for a given metric. Are they moving the needle?
How is Benchmarking different from Insights?
While Benchmarking and Insights both offer in-app analytics, the two features serve a different purpose. The purpose of Insights is to provide clients with data related to only their activity on PERSUIT, including the number of RFPs created, the types of legal services being contracted, and the cost of those services. This information can be used by clients to analyze their legal spend and make informed decisions about their legal strategy. Benchmarking is a tool to understand how the user's organization compares to others on PERSUIT. The aim is to show relative performance and inspire competitiveness.
Who on my team has access to this data?
Only users with the Insights role will be able to access this Program Benchmarking data. If you feel you should have received access, please reach out directly to your CSM.
I'm seeing a hyphen instead of a number, why is that?
In some circumstances, you might see a hyphen instead of a number. This is because the value being calculated (often a percentage) is zero. You may notice this particularly in the section to the right of each bar chart where we display the percentage changes over the last 90 days.
The duration data I'm seeing on the Efficiency tab isn't quite what I expected
Program Benchmarking excludes outliers from the charts on the Efficiency tab. For example, Program Benchmarking assumes that if an RFP has been stuck in progress for a very long time, it can be considered abandoned.
The savings data I'm seeing isn't quite what I expected
Program Benchmarking approaches savings slightly differently to Insights. In Insights we are using your agreed fees to calculate savings. Because some clients use their own adjusted savings or agreed fees and others do not, these have not been considered in Program Benchmarking in order to give the closest and fairest comparison between clients possible.
I can see in the PERSUIT platform that my company has just created a new RFP and yet I don't see this data in Program Benchmarking - what happened?
If your most recent activity or setting selection on the PERSUIT platform is not yet reflected in Program Benchmarking - don't worry! In order to ensure accuracy and completeness, all PERSUIT platform data undergoes cleansing and validation before it is reported in Program Benchmarking. This process takes time. Please allow approximately half a day before the most recent platform activity is reflected in Program Benchmarking.