Generate Letter of Engagement (LOE)
Your company's Letters of Engagement (LOE) templates are now able to be uploaded to PERSUIT and generated for specific proposals.
1. When you are ready to engage counsel and select a firm, simply navigate to the relevant firm's Proposal and click the Manage Proposal button.
2. You will then be able to select the new option, "Generate Engagement Letter."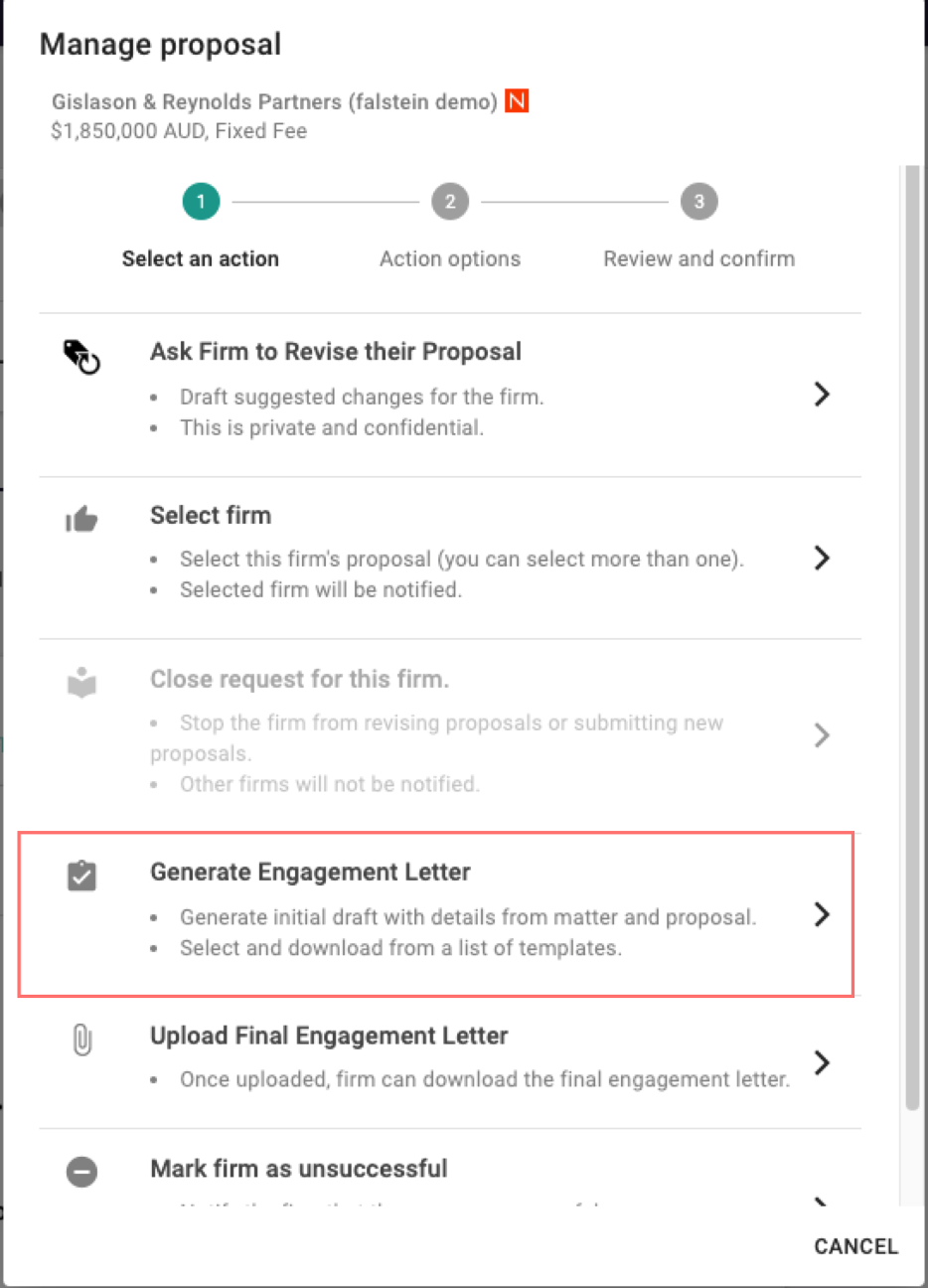 Upon selecting, you will be prompted to select which template you would like to use. All organizations will have access to the PERSUIT Standard Engagement Letter Template available in addition to any customized templates your business has uploaded.
Please reach out to support@persuit.com or your Client Strategy Manager to discuss uploading your organization's custom LOE templates to PERSUIT.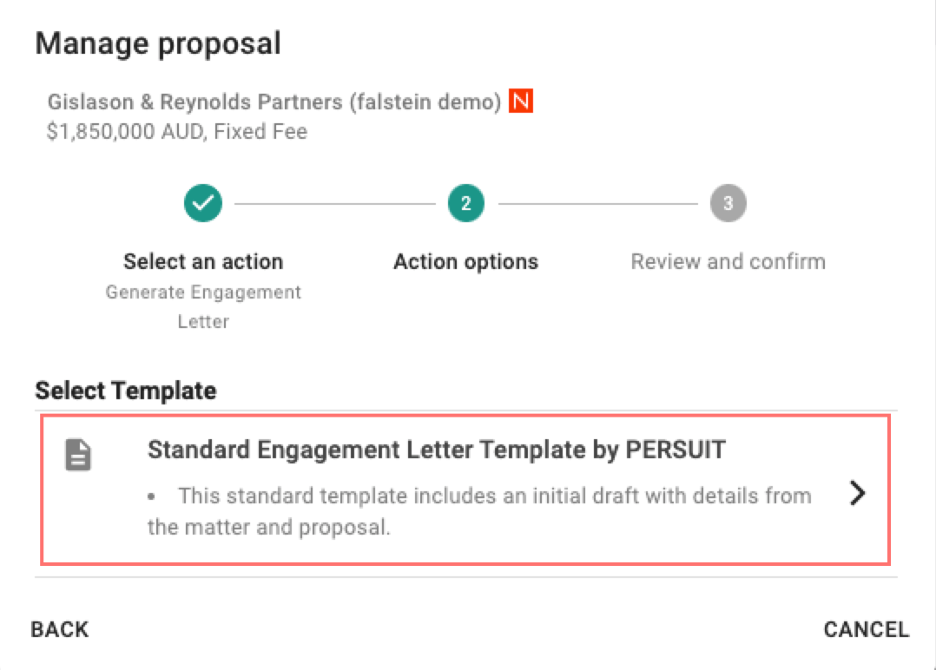 Upon Confirming your selection, a .docx file will download with your Engagement Letter.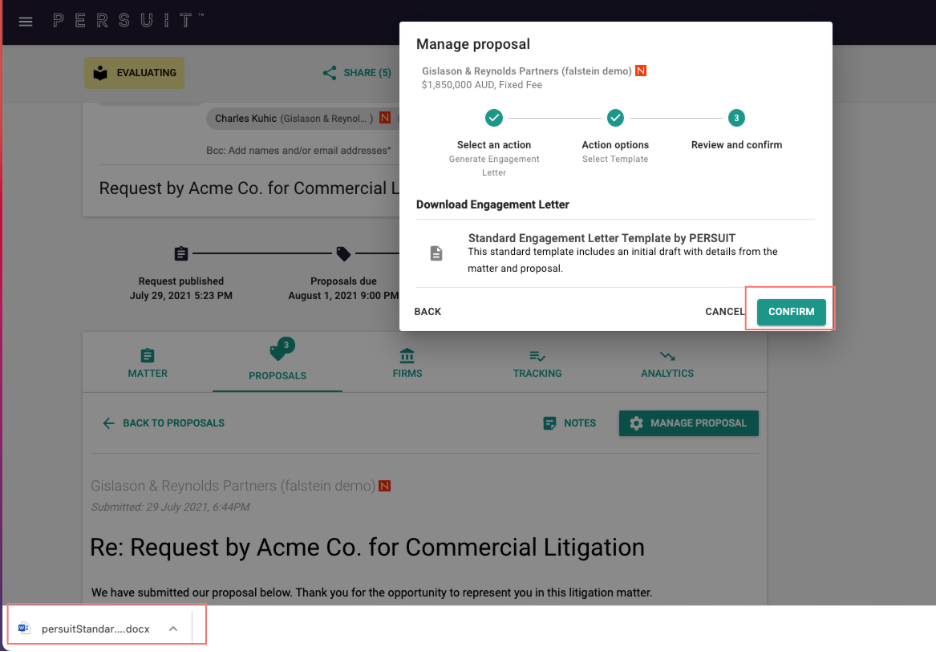 The .docx file will include all Arrangement Information related to the RFP at hand.
Upload Letter of Engagement (LOE)
In addition to generating a Letter of Engagement (LOE) within PERSUIT, you are also able to upload the finalized version of the LOE.
1. Access the Manage Proposal wizard as detailed by the steps above.
2. Select Upload Final Engagement Letter to receive the upload prompt.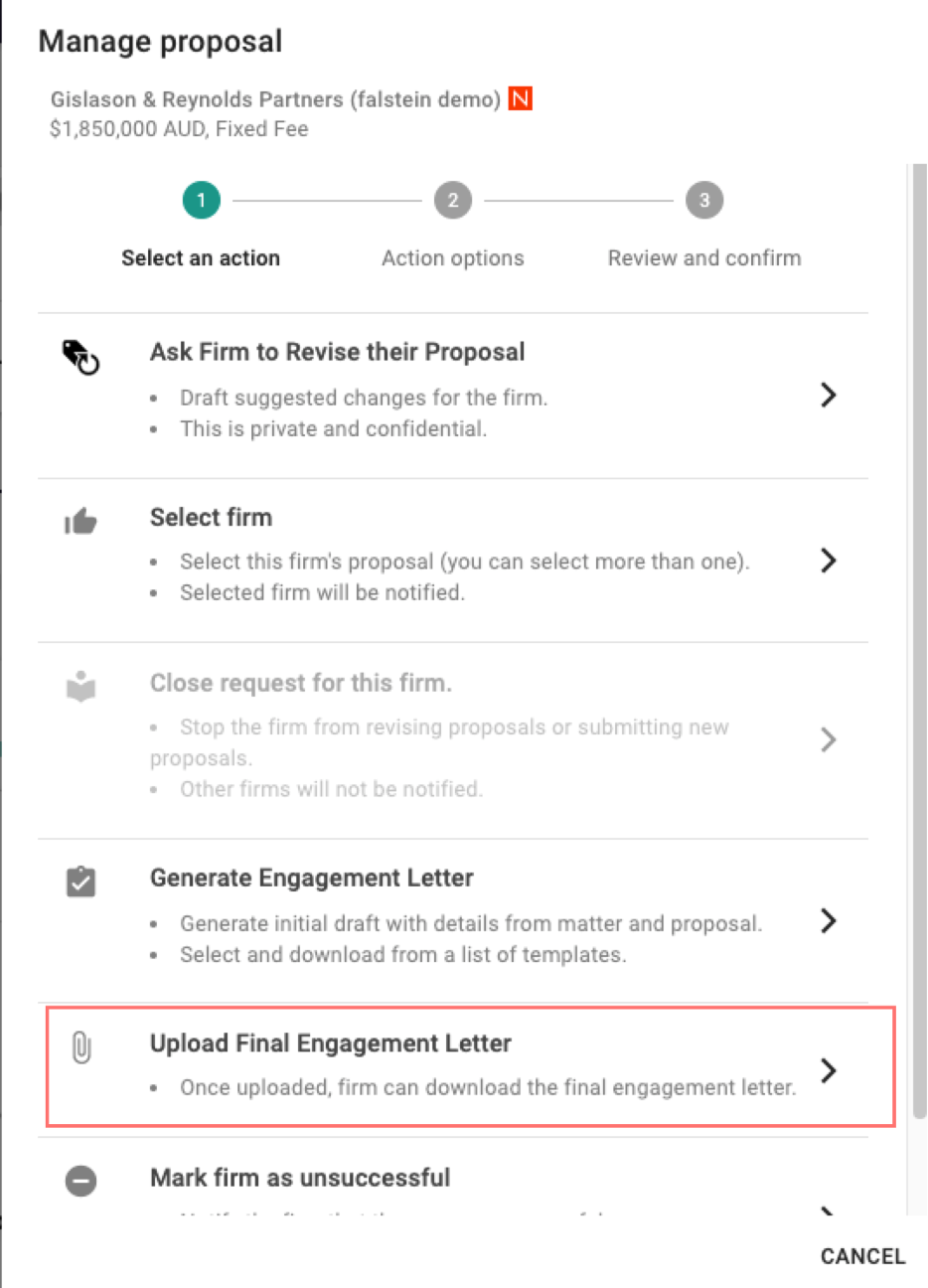 3. Attach the file (Final Signed LOE) you wish to upload.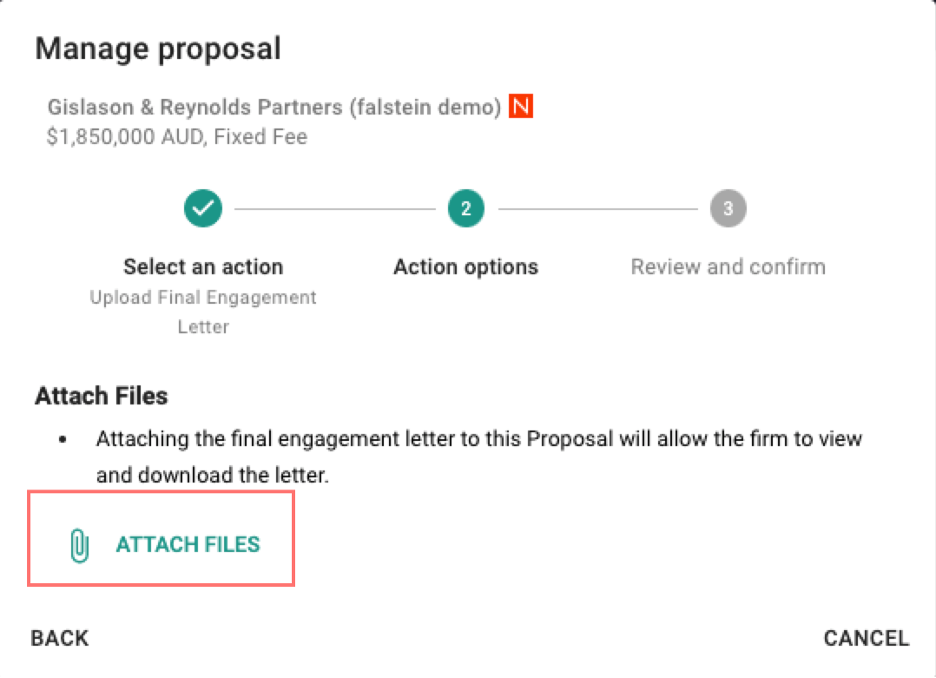 4. Once you upload and confirm, the firm will be able to view and download the LOE on its own account.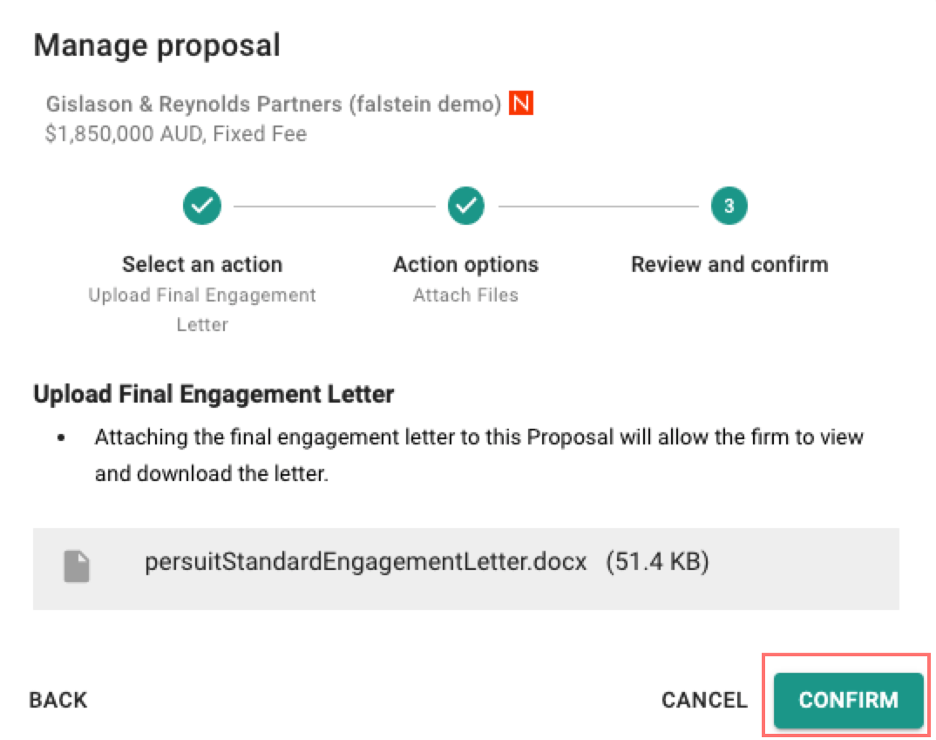 Law Firm View: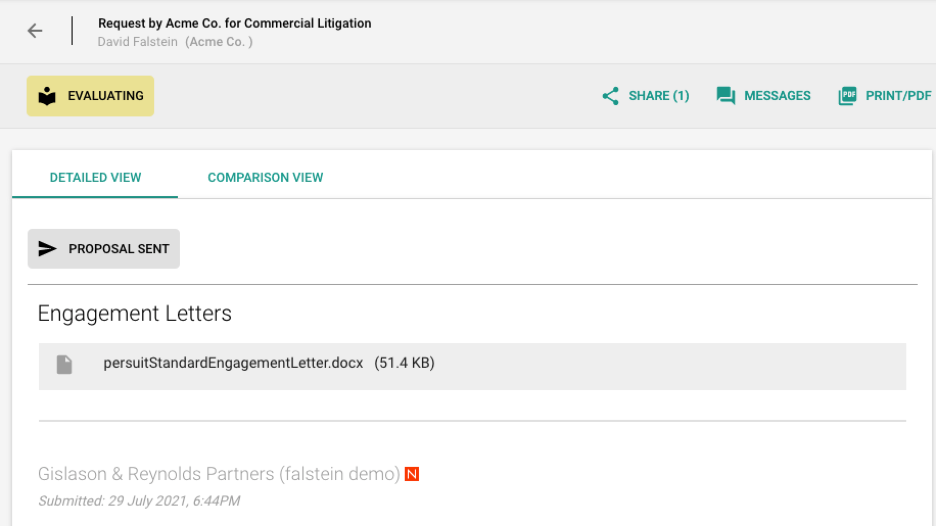 Note that uploading a Letter of Engagement does not select the firm. That action must be taken separately.
Autosave
Autosave is now enabled in PERSUIT, allowing users to save their updates in real-time without fear of data loss. After making changes, the following snack message will appear in the bottom left side of your interface to confirm that changes have been saved:

If a user is already editing a draft that has been shared with you, a lock will be placed on the RFP so that users cannot overwrite each other with concurrent saves. If you are currently the editor of the RFP, you will retain a lock on drafting until you release the lock, or are idle for 5 minutes.
These changes will help ensure that clients' work is safe and other users cannot write over their work product as was previously possible.
Future iterations of the autosave functionality will aim to enable concurrent user drafting.
Editor View:

Colleague view:

Upgraded Rich Text Capabilities
Within rich text editable fields, users now have the ability to select from multiple highlight colors, including a Color Picker. This allows for on-brand highlighting, collaboration amongst multiple drafters, and keyed color coding.

The Insert Table function has also been improved to allow for greater usability.

Dashboard Filter Upgrade
When navigating from matter to matter on your dashboard, your selected filters will now persist throughout the remainder of your session. You can select the Reset Filters button to clear filters, open a new tab, or simply select a new filter.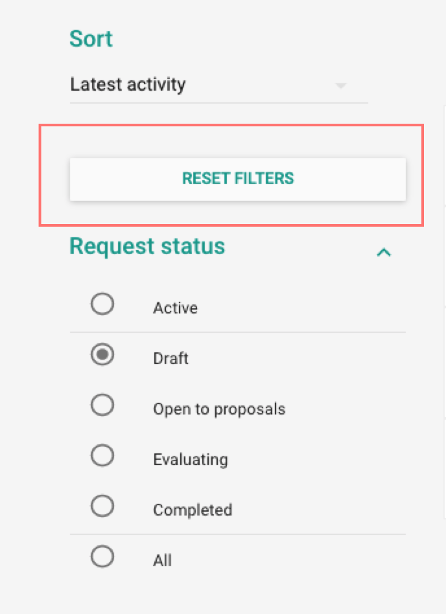 Other Enhancements
Long titles will no longer be truncated on the dashboard screen. The title will now wrap onto multiple lines as needed.