What's included in this release:
Improvements to readability and functionality of messaging pane; and
Change auction type after an RFP is sent and during an auction;
Changes to savings calculations in relation to start price;
Changes to definition of start price applied across the platform;
References to "Accept" & "Eliminate" changed to "Select" & "Unsuccessful";
Small aesthetic improvements.
Read on for details on each update.
Improvements to messaging channels
The messaging channels and message function has been improved for readability and to increase functionality.
Messaging pane is now wider and supports multi-line/multi-paragraph texts.
Messages containing multiple paragraphs will expand and render as intended once sent.
Messages can only be sent using the Send button. Pressing enter will insert a new line, rather than sending the message.
Font size of messages has been increased.
Auction settings
Selected the wrong auction settings? Want to strategically change to Rank Only after your initial review of proposals reveals a massive spread? Maybe you want to reveal prices only in the last 10 minutes of an auction?
The auction type (what information firms can see during an auction) can now be changed after the RFP has been published - even while an auction is in progress. Previously, auction types could not be changed at the client level after the request had been published.
If the auction type is changed during the auction firms view of the auction will be seamlessly changed from one setting to another. For example if the setting is changed from "Price Ranking" to "Price Ranking and Each Competitor Firm's Current Bid" the firms will immediately see competitor proposals.
There is no risk that firm users will see identifying information of other competing firms by changing the auction type during the auction because proposals are always anonymized.
To change the auction type at any time, navigate to the drop down menu at the top of the screen and select change auction type.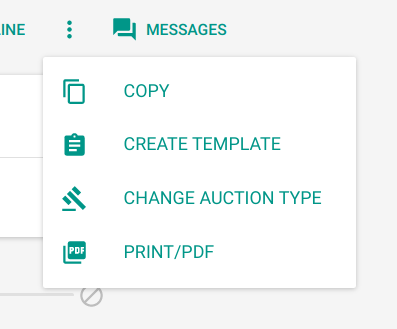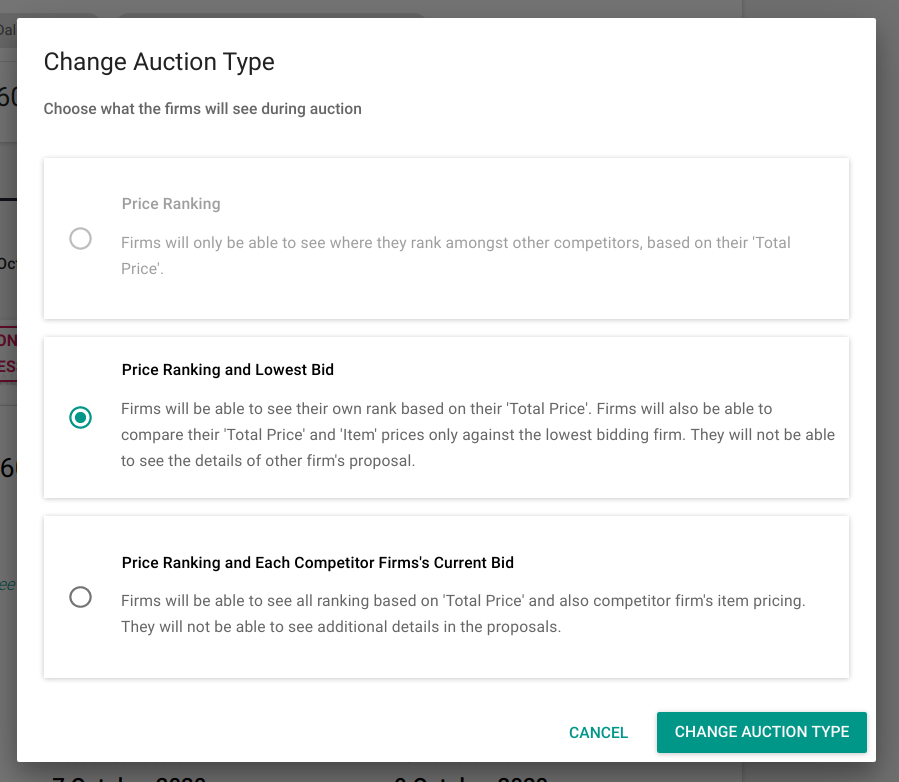 Changes to Start Price and Resulting Calculations
In a prior release, the start price was changed in auction analytics calculations to mean the highest bid after the auction begins (rather than the original price submitted which may have come before additional assumptions were set). This was adjusted so that revisions to the total price in a proposal made as a result of clarifications would not incorrectly alter the results and analytics displayed after an auction.
For auction RFPs, the new definition of start price will be reflected everywhere in the platform including all reporting (not just auction analytics) and will also be used to calculate savings where those savings metrics consider the start price.
This excludes non auction RFPs, which will still capture the first price as the start price.
Display of Original Total Price Strikethrough on Proposals
The proposals comparison view used to display the original total price in a strikethrough with the new price displayed above it. This was confusing if there were revisions pre-auction and during an auction because it was difficult to tell what the price was at the start of the auction. For example, if a firm incorrectly submitted a total price of $0 and then fixed the error and entered $1,000 prior to the auction, the $0 would still be displayed as the original price during the auction even if the firm dropped its bid to $500 during the auction. This would appear as if there were no reductions. Now, the auction start price will be shown as the strike through value (so $1,000 would be displayed as the original price in the above example). A show price history tab will still be available to show all revisions to price in the proposal that may have occurred before the auction began. Examples below:
Example of how price reductions during an auction will appear: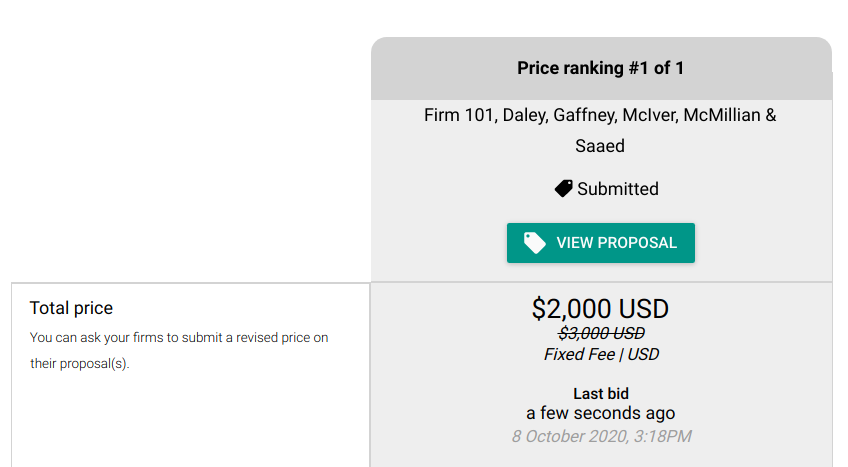 Example of how price reductions to the start price will appear, but with changes to price before the auction also showing in the price history: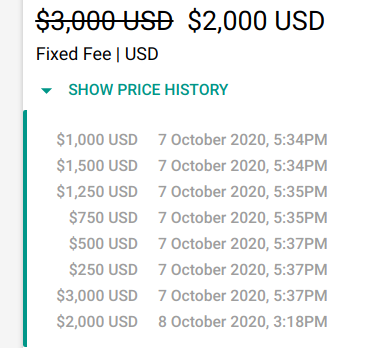 Example of how start price will be shown in the proposal comparison Excel export spreadsheet:

Example where the struck through "Start price" value is not shown.
Even though the start price of $1,000 exists it's not considered the real "Start price" because it's lower than the current price of $3,000.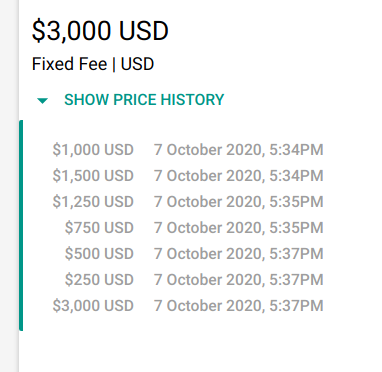 "Accept" and "Eliminate" terms and references changed to "Select" and "Unsuccessful"
All references to "Accept" have been changed to "Select". For example, instead accepting a firm's proposal, you will now be selecting a firm's proposal.
All references to "Eliminate" have been changed to "Unsuccessful". For example, firm will not be eliminated, instead their proposal will be unsuccessful.
These terms have been updated in buttons, snack messages, dialogs, reports, analytics, statuses, emails, in-app notifications, bot messages etc and apply to all client and law firm users.