Option to make rate cards visible to competitor firms during your reverse auction.
During the auction, clients have the option to:
show rank only;
show rank and lowest price;
show rank and prices of the competitor firms.
If the client selects an option that shows price, rate cards (or the lowest priced firm's rate card if applicable) will now be visible to competitor firms, along with all other pricing items.
Previously, rate cards were not shown during auctions set to reveal prices.
Firm provided rate labels will be redacted
Rate cards are comprised of a mix of client provided items and firm provided items. Rate cards were previously hidden during all auctions to prevent competitor firms from seeing any identifying information of timekeepers which may be included in firm provided items.
For example the client might request rates for "Partner" and "Associate". The firms might add additional items like "Fred Lopez, Managing Partner, $500".
These firm provided labels are considered sensitive and will be redacted when viewed by a competitor firm. They will be replaced by the words "Other rate" in grey text.
As with all other pricing items the item description provided by firms is not shown to competitors.
Example
Here is an example of what a firm can see of their competitor's rate card.
Note items 1.3 and 1.4 were provided by the competitor firm and the labels have been redacted.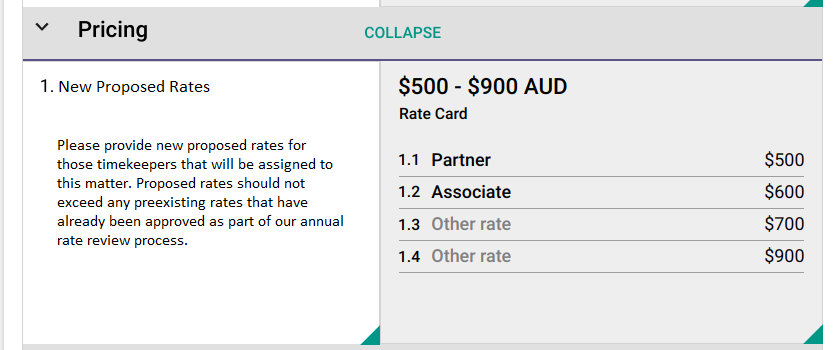 Further updates included in this release
This release included some minor aesthetic changes to the scorecard, pricing items and questionnaire that make your RFPs easier to draft and read.