PERSUIT's Scorecard allows you to build a consistent framework to evaluate each proposal in a request which can help standardize the outside counsel selection process.
The Scorecard can be added in during any stage of the request from drafting to evaluating. When you create a Scorecard in a request, it will apply to all the proposals within it.
Scorecard in the draft mode:
In the drafting screen, you'll find the Scorecard button on the left underneath the Settings section.

Scorecard in any published mode:
Within the specific request you'd like to enable the scorecard, go to the Proposals tab. You'll find the Scorecard underneath the proposal summaries. Click Expand to open the Scorecard row.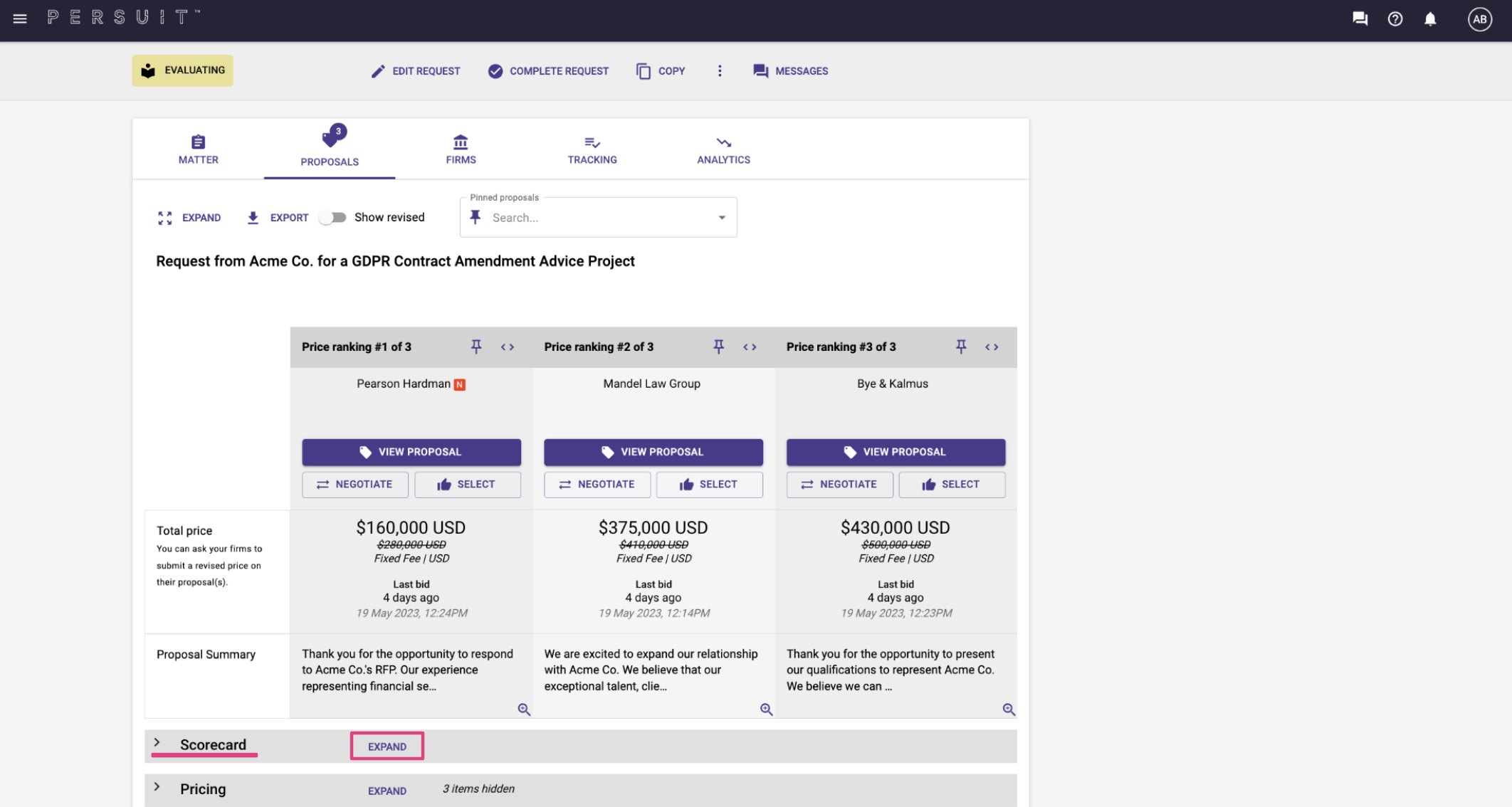 Once the Scorecard is expanded, you can either click on the Settings icon or the "Add categories…" text to begin creating your Scorecard.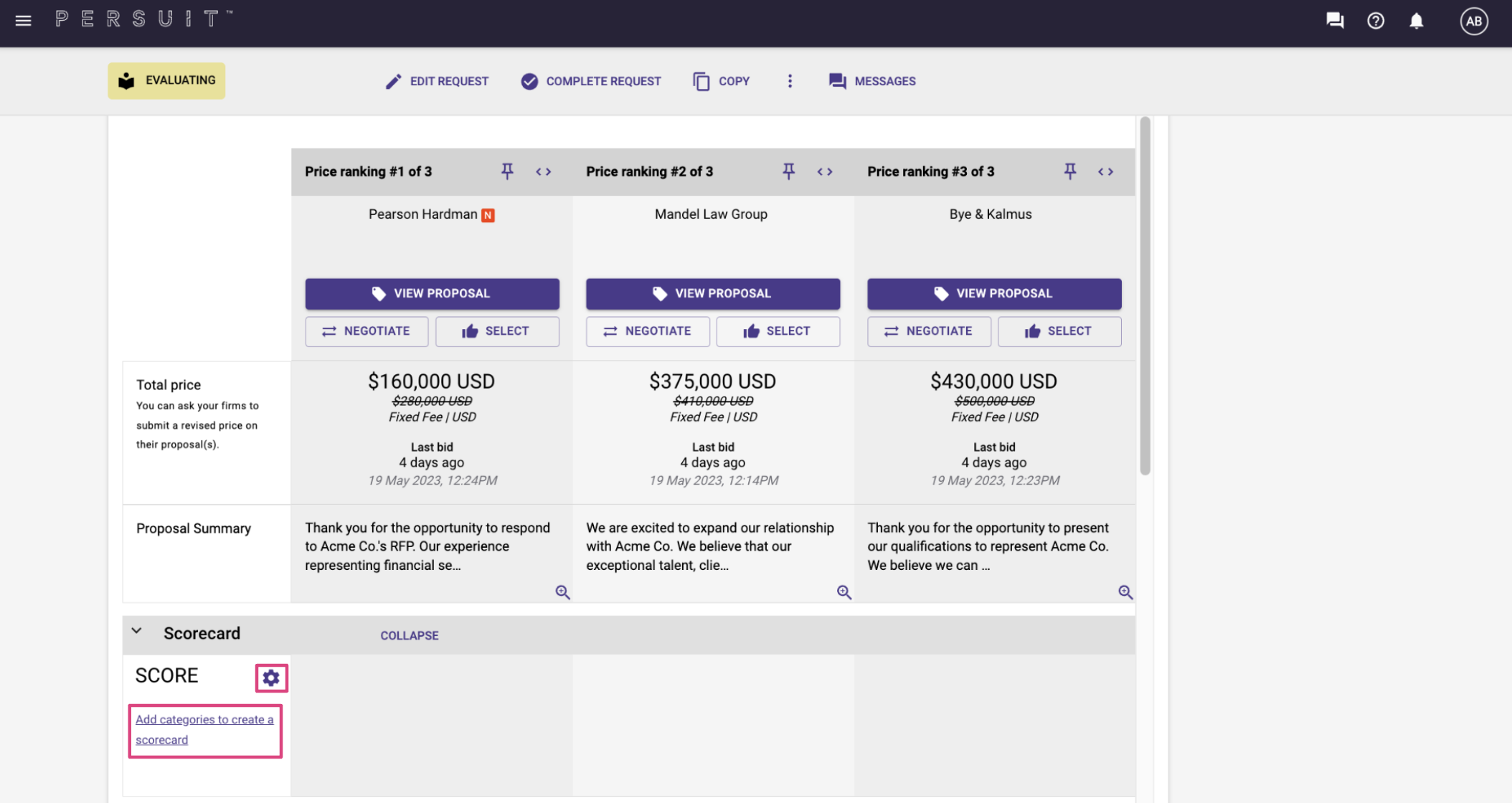 Scorecard customization:
The Scorecard can be customized to your organization's needs through categories and weight allocation. You'll find a list at the bottom of this article of example categories you can use.
To add a category in your Scorecard, click Add Category. The best practice is to have between 3 – 6 categories in each scorecard, but there is no limit to the amount you can include.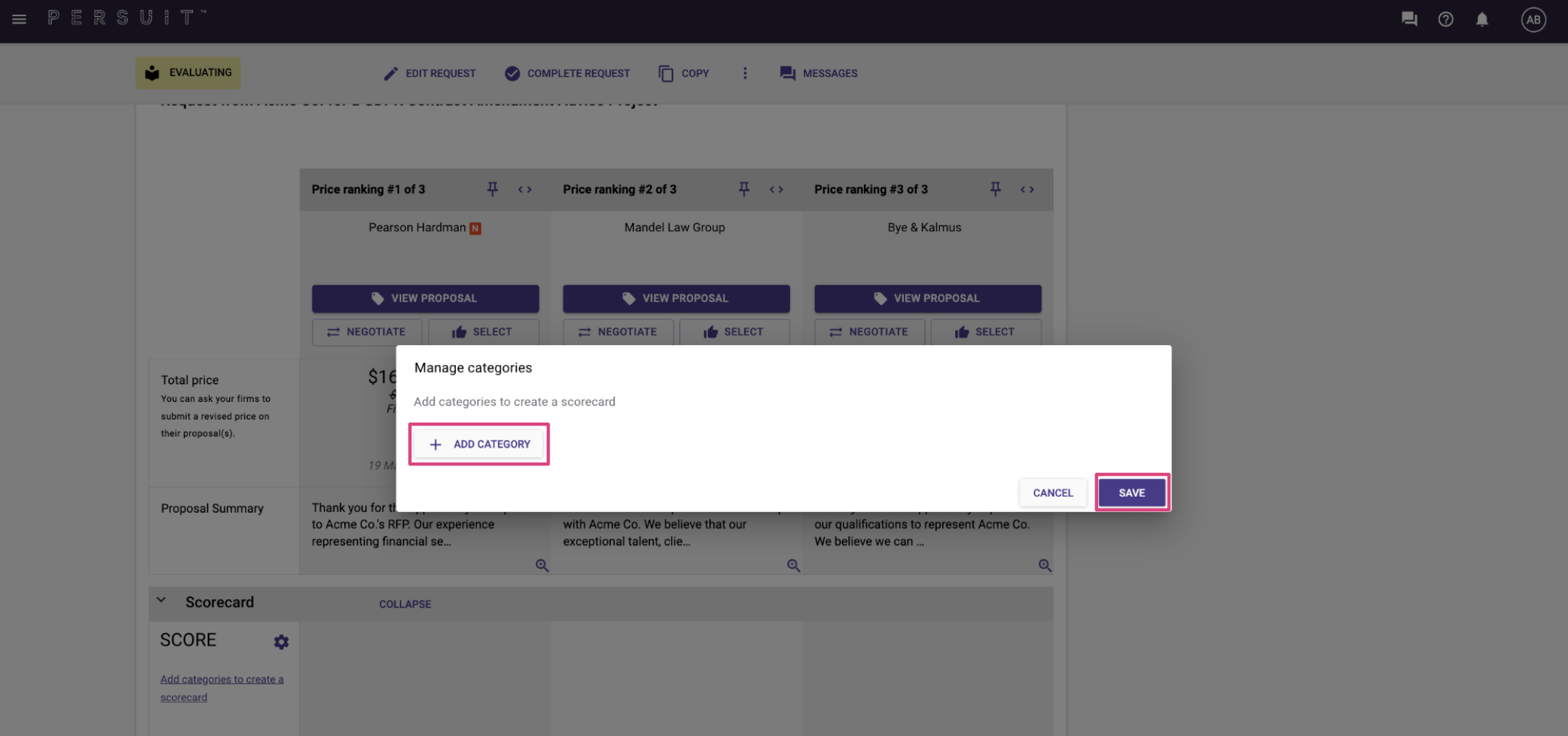 You can fill out the category name and add subcategories here. At least one subcategory will be required within each category as the category name works like a heading and cannot be scored.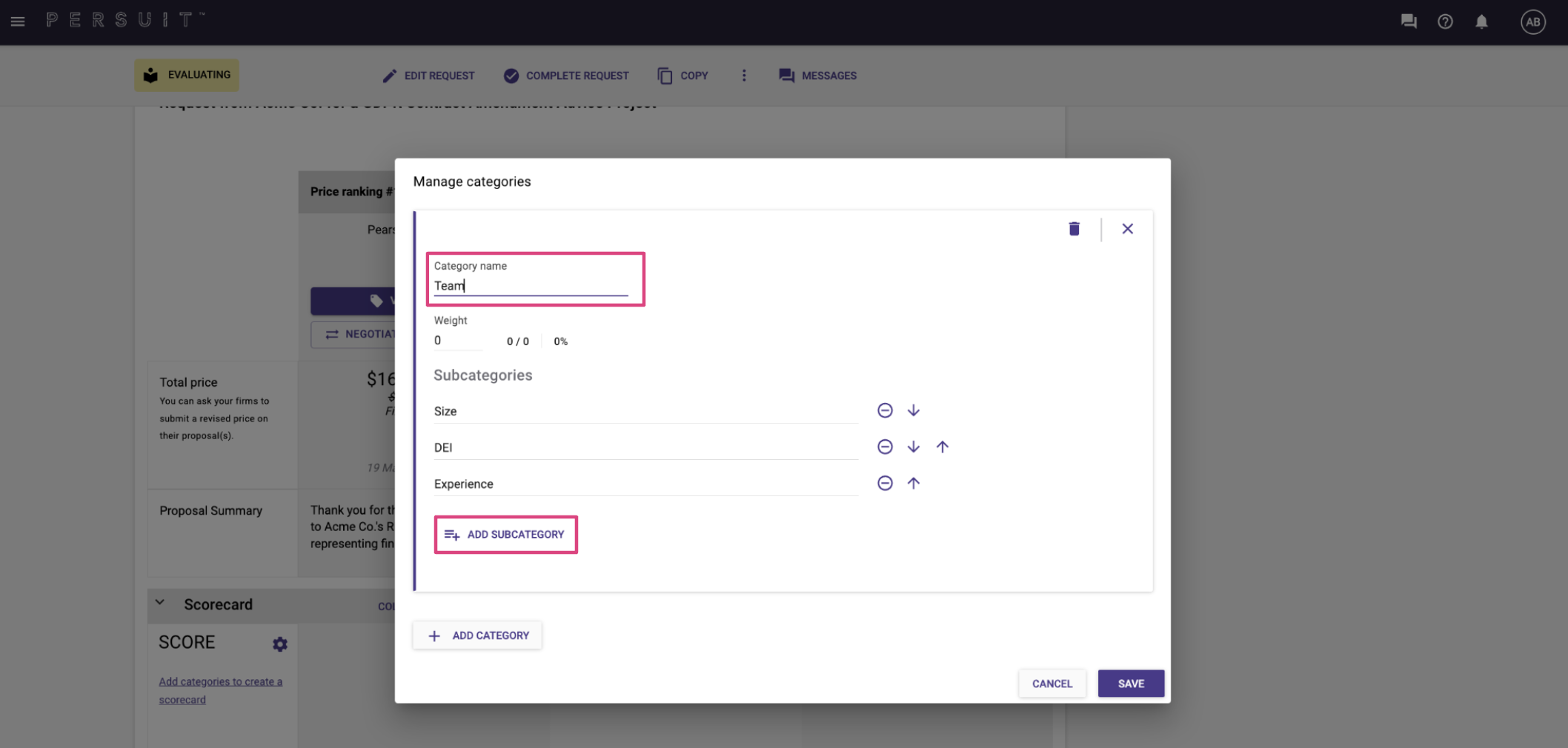 You'll also see a place to allocate the weight of the category. "Heavier" weights should be applied to the most important factors and "lighter" weights should be applied to less important factors. The allocated weights should add up to 100%.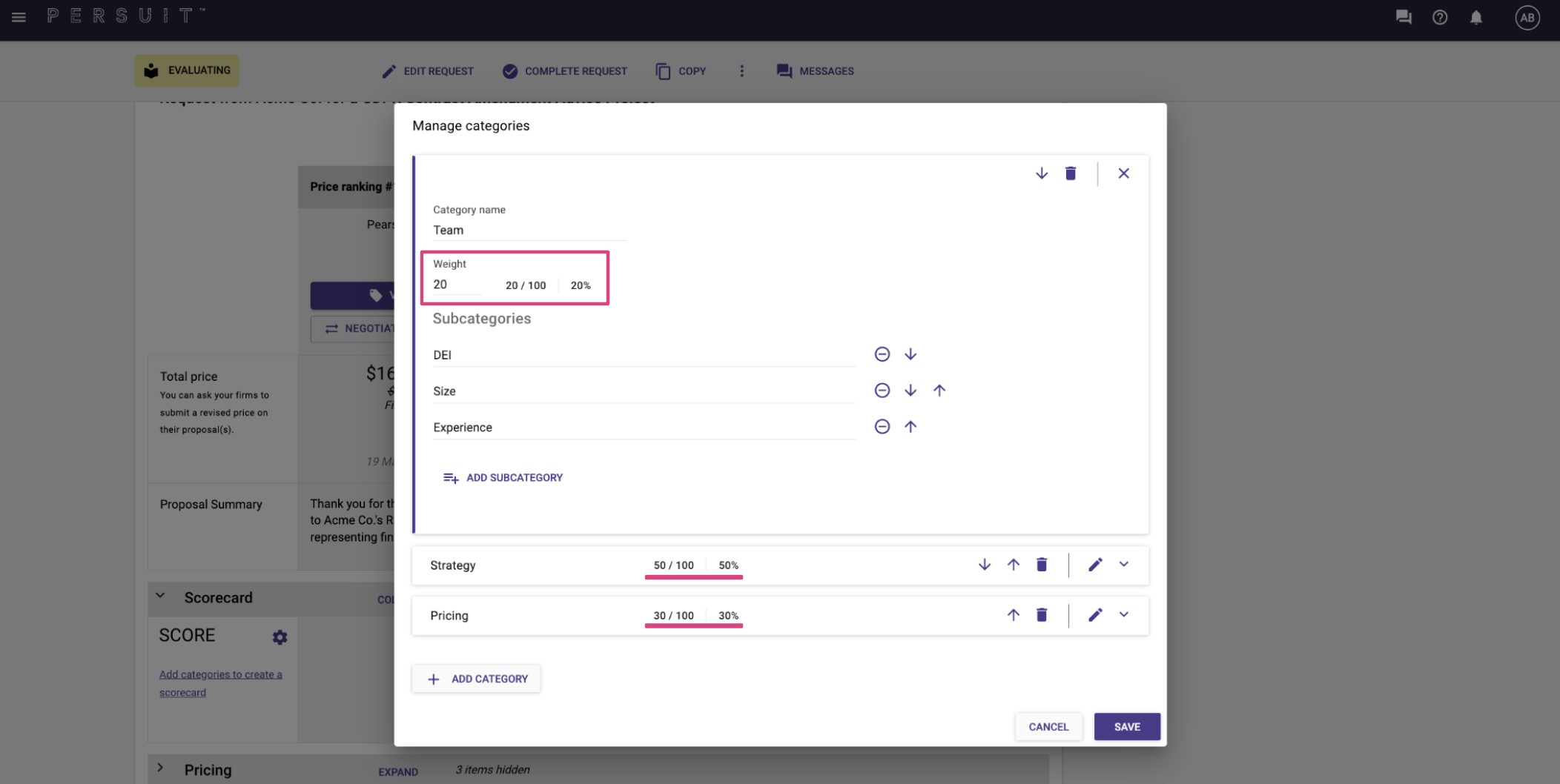 Click Save to finalize the Scorecard. You'll see it issued among the proposals within the request.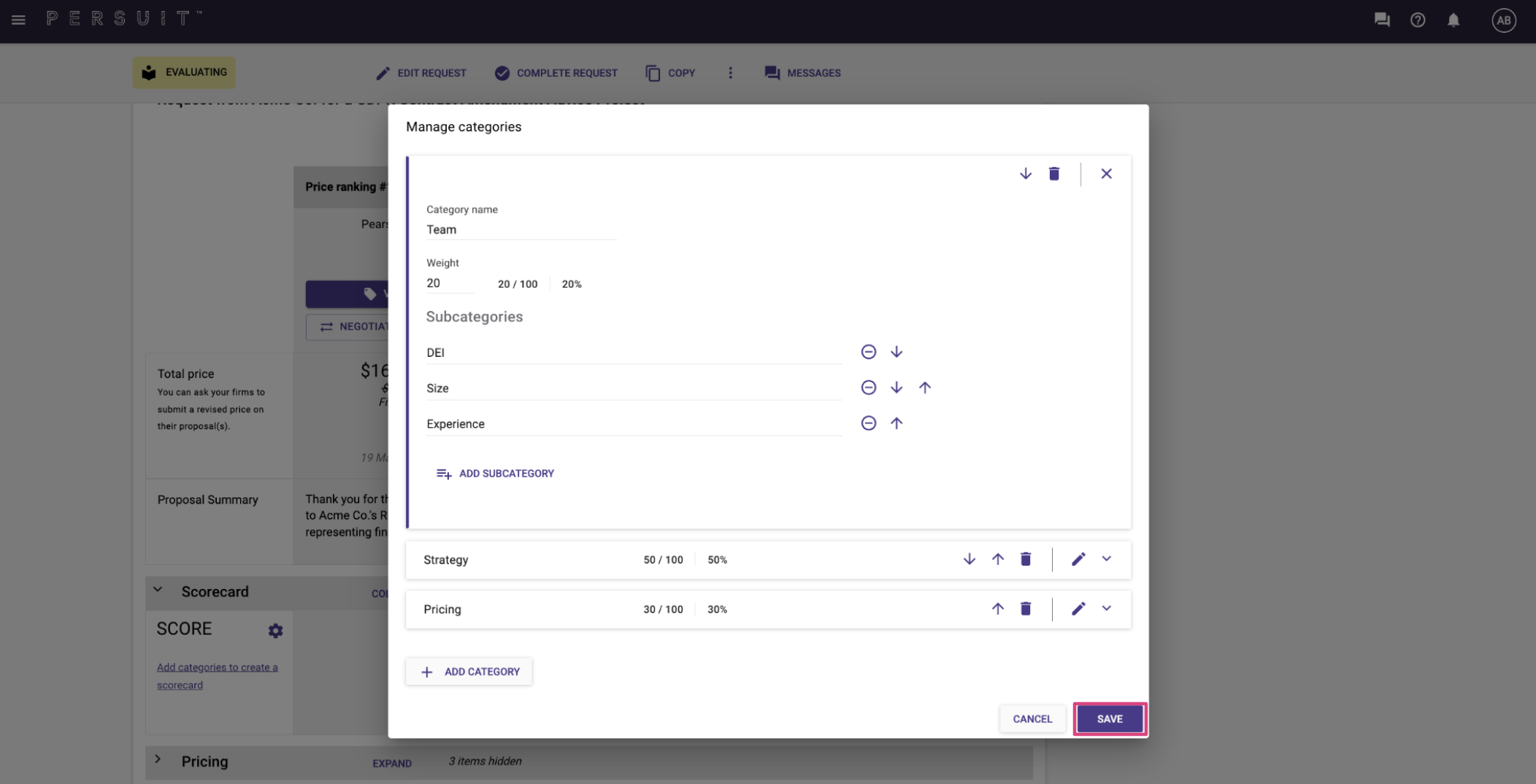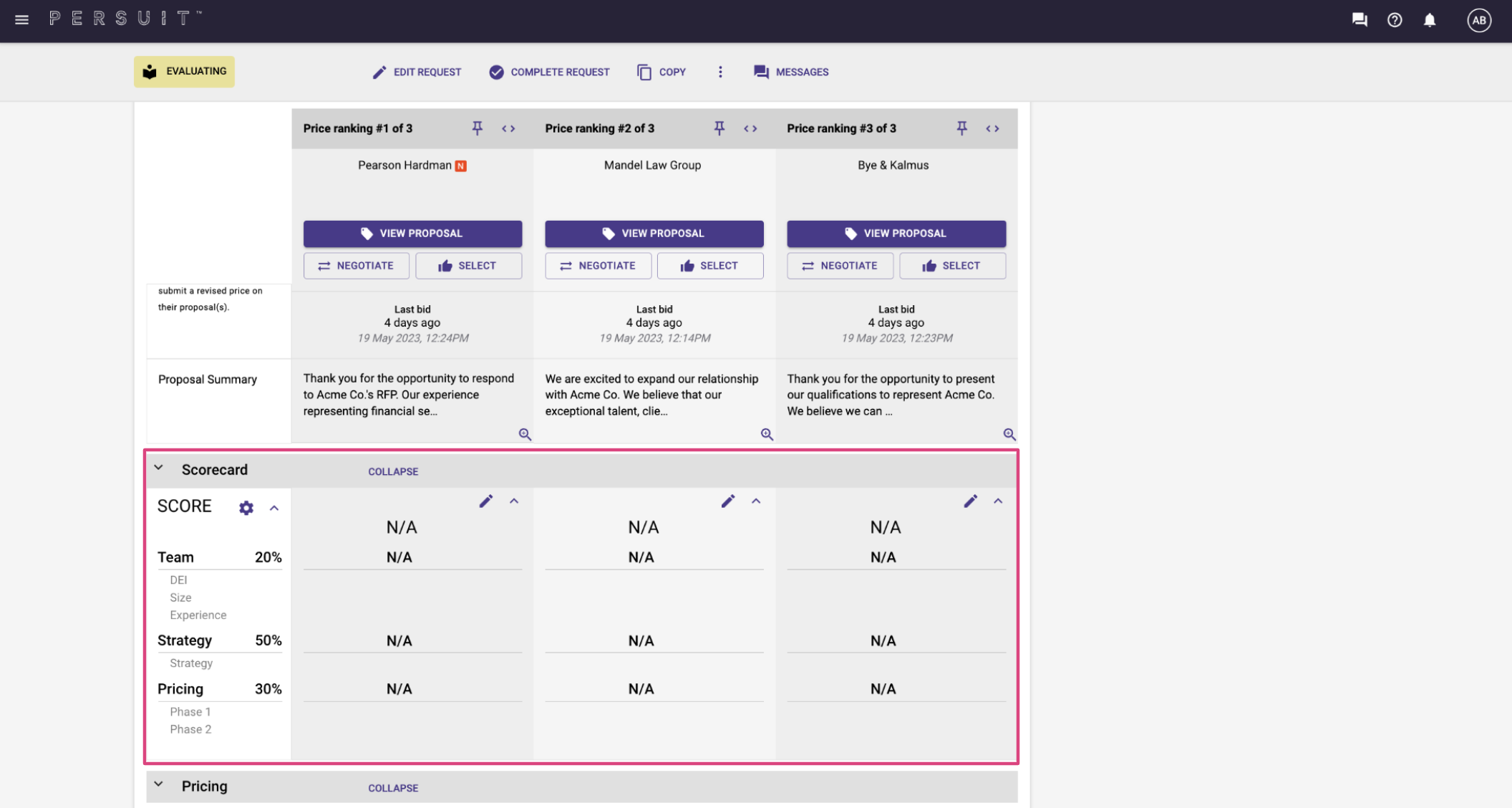 Scoring proposals:
Any colleague with access to the request can create, view and edit the scorecard.
Note: The score is not a cumulative average of all colleagues' scores but a singular score per proposal. There is no limit to how many times a score can be updated.
To score a proposal, click the Pencil icon within the proposal's scorecard column. The Scorecard will expand and you will be able to score on a scale of 1 – 5, with 5 being the most favorable.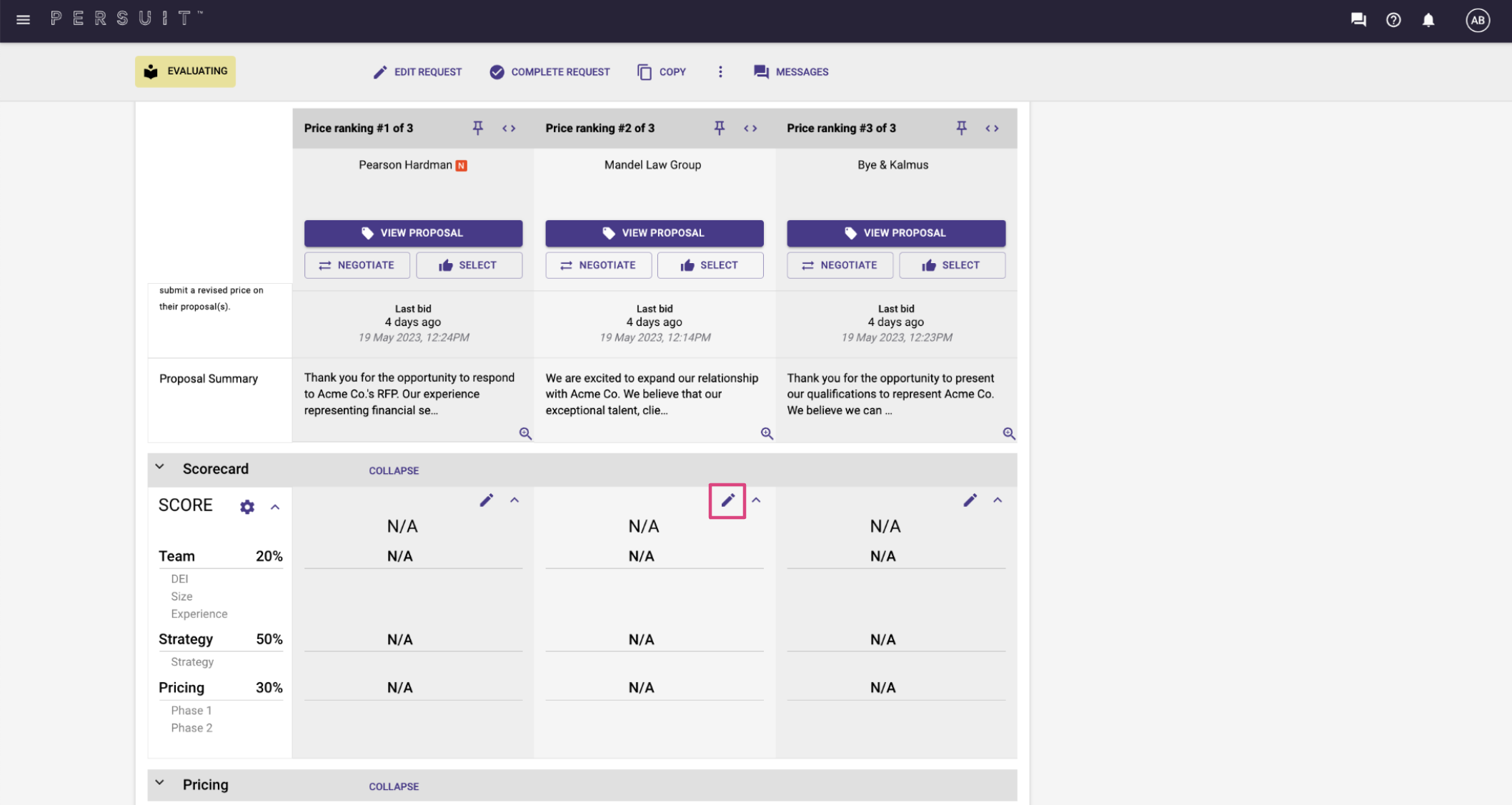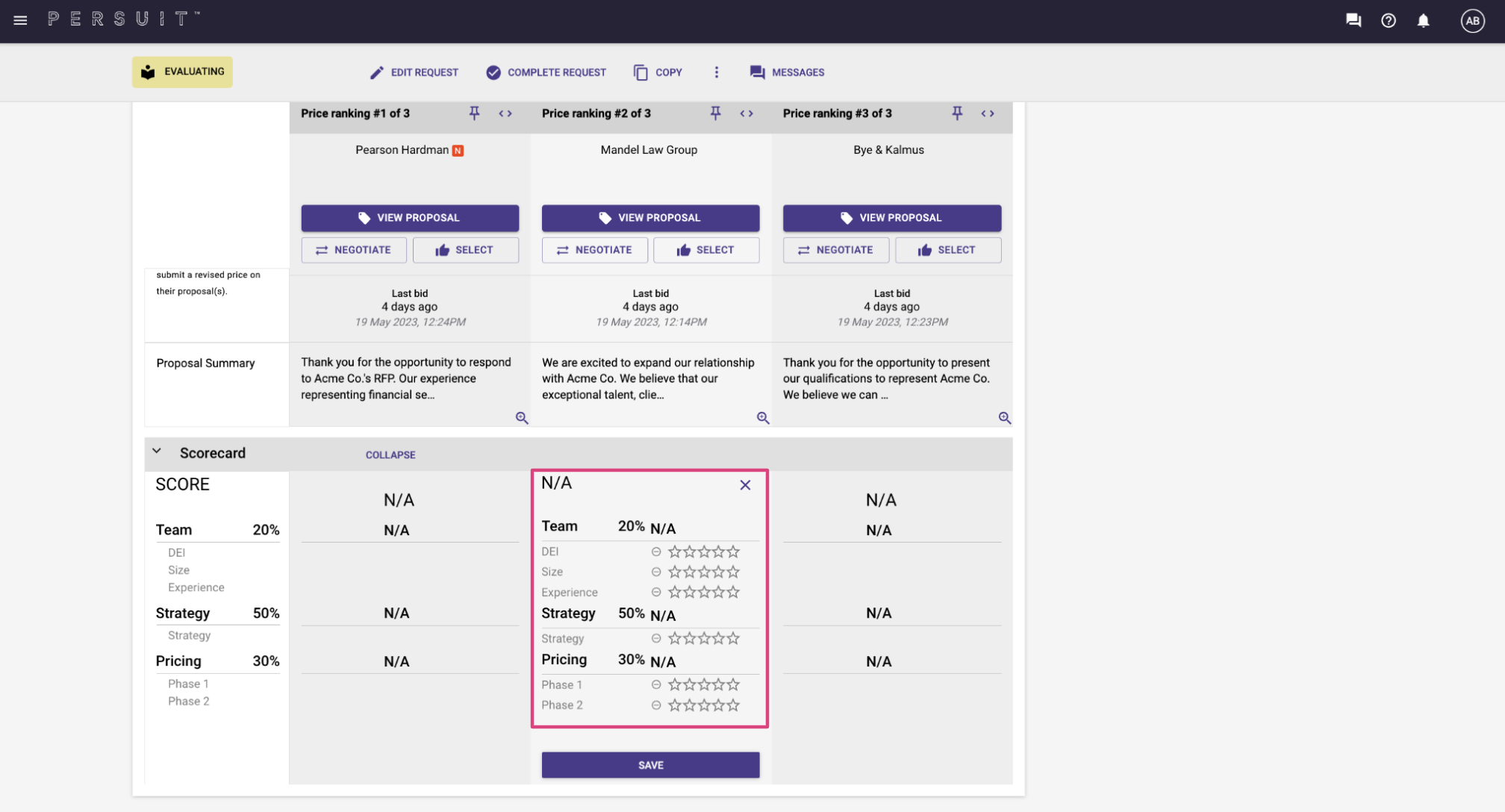 Click Save to finalize the given scores. The edit screen will disappear and you will find the averages of each category and the average overall score in its place.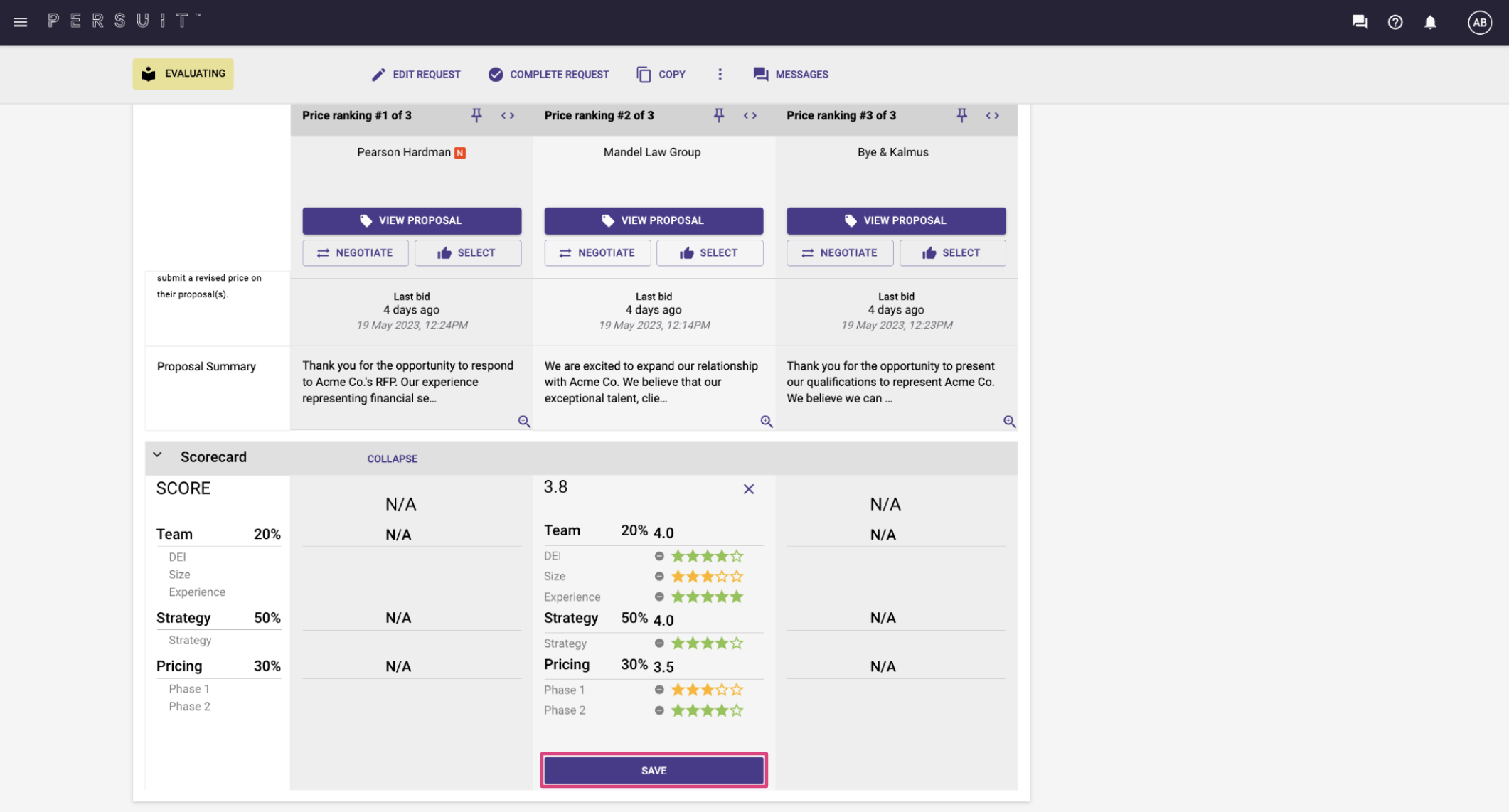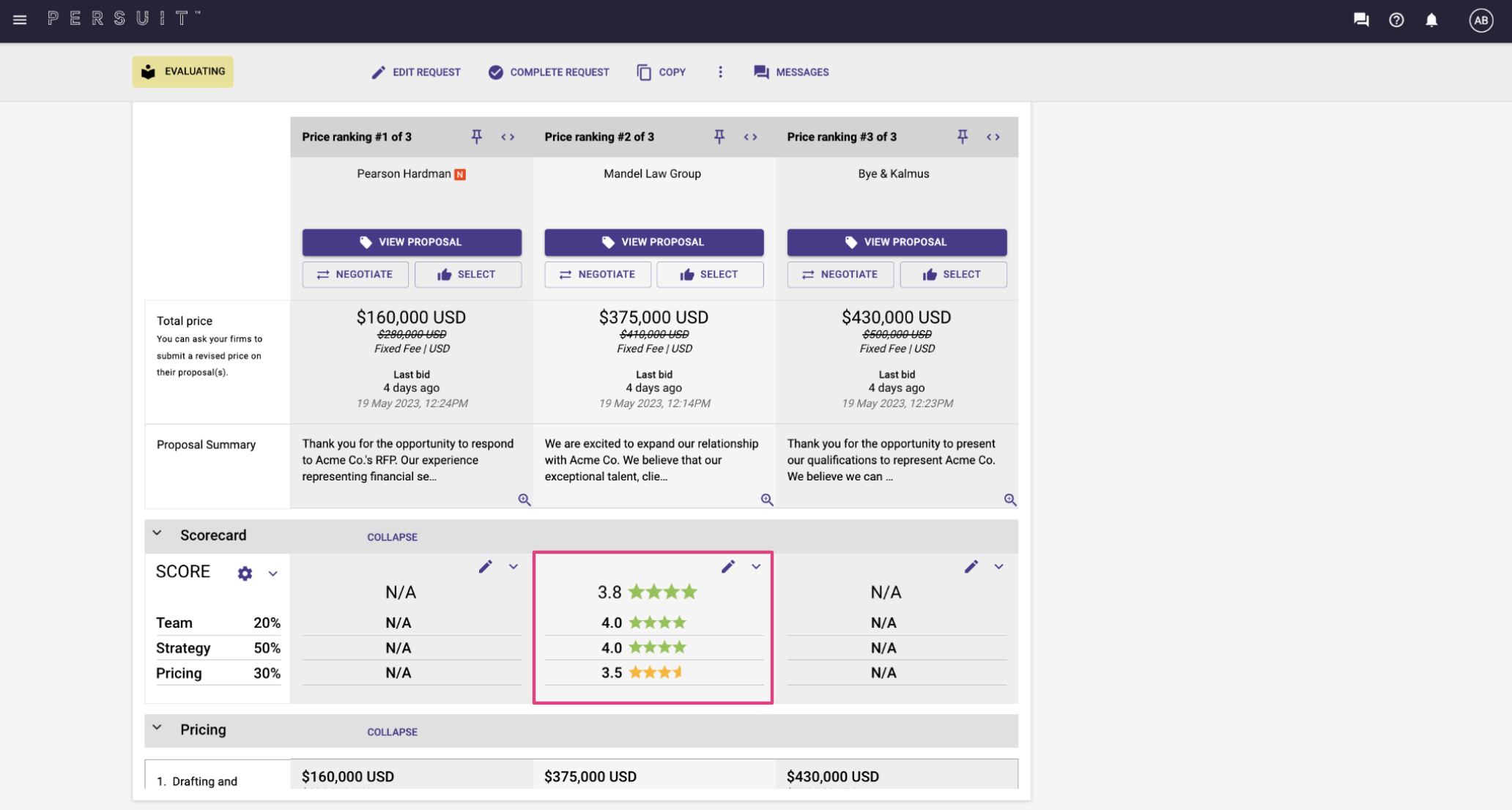 Categories to Consider for Your Scorecard:
AFA - Ask if the firm leverages alternative or appropriate fee arrangements. Modifying pricing structures, risk-sharing, and stepping away from the billable hour can be mutually beneficial for you and your outside counsel. In your RFP, ask questions about volume discounts, capped fees, and success fees.
Diversity - Hiring diverse outside counsel can bring new perspectives and innovative counsel to the table. Diverse teams tend to be more creative and achieve goals more efficiently. Diverse teams are 15 percent more likely to have returns above the industry average mean.
Experience with the Judge - this could be an important distinguishing factor that can give a firm an edge over those that you may normally prefer handle such a matter.
Experience with Opposing Counsel - understanding how opposing counsel operates can yield significant value to the client in the form of speedier resolutions and more appropriate fee arrangements (i.e. given the likelihood that opposing counsel will file more motions).
Firm's Assessment of Key Risks, Key Issues, and Strategies for Success - identifying key risks to the client in the RFP response can shed important insight into the way the firm approaches its work even before it has earned the right to represent the client. These can provide free early insights before the engagement begins.
Internal Reputation - Check your organization's internal firm rating system. Sometimes the best recommendation for a firm can come from within your organization. But beware of recommendations that are simply based on whether a firm was "liked" or "disliked." Look for specific and fact-based reasons why or why not your team would recommend a law firm.
Practice Area/Industry Expertise - Additionally, without practice area or industry expertise, your outside counsel may waste time and money getting up to speed. If your firm doesn't regularly work in the right practice area or in your industry, you might be billed for more hours than you expect and your matter objectives may be compromised.
Price / Rates- Often price is understandably the most heavily weighted factor. While still considering price, be wary of compromising your matter objectives by accepting the lowest bidding firm.
Responsiveness - When you're working on a tight deadline, consider how responsive your outside counsel needs to be. While you can certainly establish expectations around communication before, during, and after engagement, some outside counsel will be more responsive than others. Let your firms know if you want high-touch or low-touch communication throughout the matter.
Relationship - Having a synergistic relationship with your outside counsel may make or break your matter and hiring a panel firm may have benefits as the firm will be more likely to adhere to client's billing guidelines.
Technology - Is your outside counsel innovative? The best firms properly leverage technology to bring you efficient and effective outside counsel.
Value Add - What is the firm bringing to the table that other firms don't have?
Example Scorecard Template
Category
Sub-Category
Weight
Experience

1. Matter-Type Related Experience

2. Venue Experience

3. Judge Experience

4. Opposing Counsel Experience

40%
Diversity

1. Team Diversity

2. Origination Credits to Diverse Lawyers

20%

Strategies and Issues

1. Firm's strategies for this matter

2. Firm's ID of key issues

3. Firm's assessment of key risks

4. Firm's assessment of final disposition

20%
Rates / Fees
How does this firm's fees compare to the competitors
20%